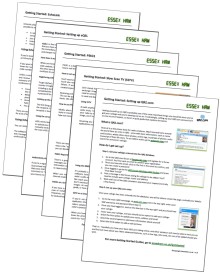 At Essex Ham, we know that once you've got your licence, taking the next steps can be tricky – we've all been there. To help out, we've put together some handy Amateur Radio Getting Started Guides, available as web pages or PDF files.
On this page, you'll find links to our various "How to" guides created for those new to the hobby, as well as links to some of our training material.
We're in the process of creating some additional content for this section, and you might be able to help: If you're an M6 or M3, let us know what guides would you like us to add. If you're interested in contributing an article to help newbies, we'd welcome your submissions, which will help others. Please Get in touch
Thinking of joining the hobby?
Already in the hobby?
Here's our collection of guides. Also, take a look at our Amateur Radio FAQ for some tips.
Video Guides
| | | |
| --- | --- | --- |
| What is Amateur Radio? | Amateur Radio: Getting Started | Amateur Radio Rallies |
For more videos, see the Essex Ham Videos page
Related Content
Need Help?
See our Amateur Radio FAQ for some tips, or ask in our forum
Amateur Radio Training Material
Got a suggestion for a guide we should add? Please let us know in the comments section below.