Amateur radio operators typically communicate with others in their local area using the 2 metre band (144 to 146MHz) – either from a home shack, a mobile, or a handheld. If you're able to access a local repeater, you could be able to get your signal out to a wider area. Repeaters are typically sited at high points to allow signals to be retransmitted over a wider distance.
The primary amateur radio repeater for Essex is based at Danbury, near Chelmsford, with the callsign of GB3DA
About GB3DA
The Danbury 2 metre repeater started operations in 1980, and is sited at the Danbury Church Green transmitter site. The site is also home to local commercial radio station Radio Essex.
Licensed amateur radio operators are permitted to use the GB3DA voice repeater to talk to other amateurs. The repeater offers great coverage over a sizable part of Essex and the surrounding area.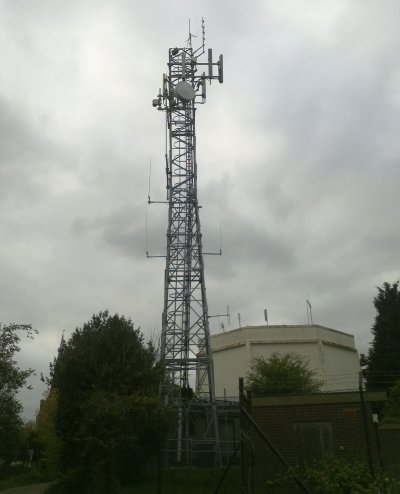 GB3DA Repeater Settings
The settings needed to access this repeater, are as follows:
Output Frequency: 145.725MHz
Input Frequency: 145.125MHz
CTCSS Tone: 110.9Hz
Transmitter Power: 25W erp
Narrow Band / 12.5kHz
Note that GB3DA has a timeout of approx 2 minutes.
Supporting GB3DA

The GB3DA repeater is available to all licensed amateur radio operators, and is operated by the Essex Repeater Group.
The Essex Repeater Group relies on donations and membership subscriptions. If you use GB3DA, please show your support and contribute to ERG. To keep the repeater running, we'd ask that you consider becoming a member of ERG, or make a donation. Support the Essex Repeater Group.
The owner of this site is proud to be a member of the Essex Repeater Group.
Where is GB3DA?
The GB3DA repeater is in Danbury, Essex at the Church Road site. Grid Reference is TL779050. The following map shows the position of GB3DA and its sister repeater GB3ER:
View Larger Map
The Tower
GB3DA operates from the Danbury Church Green transmitter site, which is a broadcast transmitter site operated by Arqiva, the company that owns and operates TV and radio transmitters across the UK. The transmitter site is currently the transmitter site for the radio station Radio Essex (formerly known as Chelmsford Radio) on 107.7MHz and is also used for mobile phones.
National Grid Reference: TL779050
Site height: 107 metres above sea level
Tower height: 26 metres
The Essex Repeater Group featured in TX Factor Episode 9
Repeater Setup help
Related Links