As part of our quest to make it easier for new people to get into the hobby, we offer a free Foundation Online Amateur Radio Training Course. Please take a look at the following short video to find out more about our course:
Our Internet-based amateur radio training courses launched in 2015 and is designed to help newcomers to get started in the hobby. We've now helped over 8,000 people to get started in amateur radio.
Online Amateur Radio Training?
Do you want to study at home? Distance-learning course could be for you
Lead a busy life? Study at a time that suits you, without the need to travel
Want to know what the exam is like? Have a dry run of a course before taking the plunge
Already on a club's course? Great – our online course can help with revision
Need extra help? Struggling with a particular topic? Perhaps our videos or handouts can help
Struggle to learn from a book? Our course is a little more interactive.
Can't find a local club to help? Our UK online courses run every month
The course is also useful for you if you can't make regular courses, want to study at your own pace, or have a limited budget. Our course is free.
Study and pass online
You can now study online for free, and take your exam online – no need to complete any practical assessments, or visit an approved exam venue or club. To enrol, visit Foundation Online Registration. If you prefer classroom-based teaching, many local clubs offer training courses and exams.
Fees: We don't charge for our online training courses, but the RSGB charges an exam fee of £32.50.
The Foundation Online Course
Our online course is split into nine modules, each one with a full walkthrough of what you need to know for the syllabus, plus a short test at the end to make sure it's all going in.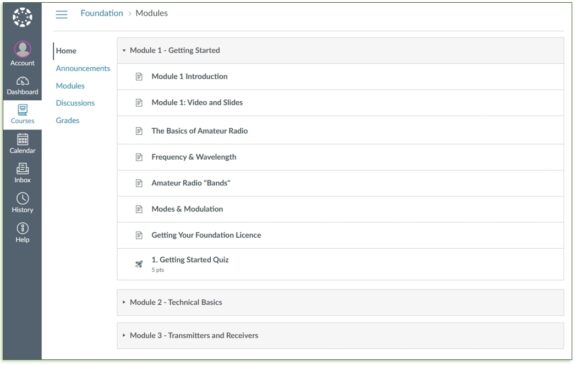 The online Foundation course is supplemented by downloadable material, comprehensive videos and training slides, and much of the content is based on our popular (and free) Foundation Training Slides, as used by several clubs across the UK.
How does the course work?
Our course typically runs for three weeks (although a "fast track" option is available if you're in a rush).
The course is split into nine modules, and we release a new module every two or three days.
The course lets you study when it's suitable for you – no live lessons, and no need for a webcam.
Each module contains a section-by-section breakdown of what you need to know for that module, and ends with a short quiz
Each module also has a full video, so you can watch as we discuss the material and demonstrate how things work
You can take the modules whenever you want over the 3 weeks, although we recommend 1-2 hours of study per week – at a time to suit you
You'll be working in an online classroom with other students, and have the option to ask questions of the tutor and chat with other students
At the end of the course, there's a mock test, to see if you'd be ready to sit the actual exam
Want to join our course?
Apply for Foundation Online
If you are interested in joining an upcoming
Foundation Online
course, please complete the following form. We will then send you our course summary, and ask you to confirm your place. Please only complete this form if you are genuinely interested in studying online for the UK Foundation exam and can commit to at least 2 hours a week of online study for 3 weeks.
What happens next? After submitting, you will receive an automated email within 30 minutes – check the email and confirm your place. If you

don't

see it, please check your spam folder, or contact us.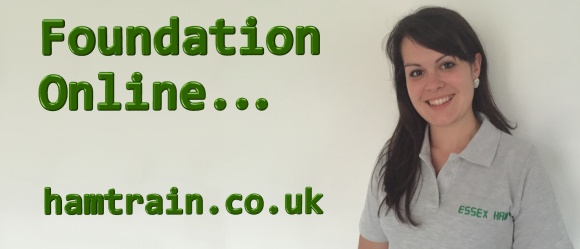 Our course uses an industry-standard Learning Management System (LMS) to deliver our amateur radio courses. Foundation Online has been designed by an RSGB Registered Trainer who has been involved with training for multiple amateur radio groups.
Got a question?
If you've got a question, check our Foundation Online Frequently-Asked-Questions section.
Related content