On this page, you'll find some basic information about D-Star, and some handy information for those in and around Essex.
What is D-Star?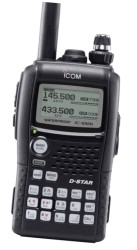 Most amateur radio voice chat is analogue. D-Star is one of the relatively new Digital Voice (DV) modes.
D-Star is championed by manufacturer Icom. Other DV formats include DMR (Motorola and others) and Fusion (Yaesu)
D-Star offers some strong advantages over analogue voice:
Connectivity around the world using the Internet
Can be used to GPS positioning information
Automatic logging of callsigns, plus online logs of traffic
Digital audio quality
Option to set your radio to "Call Squelch", so you will only receive calls for you.
Reflectors (Regional 'chatrooms')
Using D-Star
You'll need a D-Star radio – they're made by Icom, and they're not cheap –  Prices for a typical D-Star handheld are around £300.
Setting up a D-Star radio can be tricky, as you are required to program extra settings for each repeater, and also set the radio to transmit your callsign in text format.
One of the benefits of D-Star, is that you can link your radio and your repeater to others over the Internet. You could be driving around Chelmsford, connected to the Danbury D-Star repeater, talking to someone driving around New York. Before you can use the Internet connectivity, you have to be registered on the D-Star network (See D-Star Registration in Essex)
D-Star Repeaters In/Around Essex
Here is a list of the D-Star repeaters in Essex, together with their settings.
Note that "RPT" columns contain two blank spaces, shown here as underscores.
| | | | | | | |
| --- | --- | --- | --- | --- | --- | --- |
| Repeater | Location | Output | Input | Offset | CTCSS | Notes |
| GB7ZP | Chelmsford | 439.4875 | 430.4875 | -9.0 | N/A | Run by ERG |
| GB7HH | Romford * | 439.7500 | 430.7500 | -9.0 | N/A | Multi-mode |
| GB7CH | Hainault * | 439.6125 | 430.6125 | -9.0 | N/A | Multi-mode |
| GB7TE | Clacton | 145.775 | 145.175 | -0.6 | N/A | Run by Martello Tower Group |
D-Star Gateways In/Around Essex
The following is a list of D-Star Gateways. A gateway is not the same as a repeater – it provides access to the D-Star network, and is simplex.
Note that "RPT" columns contain two blank spaces, shown here as underscores.
| | | | | | | | |
| --- | --- | --- | --- | --- | --- | --- | --- |
| Repeater | Location | Output | Input | Offset | "YOUR" | "RPT 1" | "RPT 2" |
| MB6CE | Chelmsford | 144.8625 | 144.8625 | 0.00 | CQCQCQ | MB6CE__C | MB6CE__G |
| MB6ZZ | Basildon | 144.8125 | 144.8125 | 0.00 | CQCQCQ | MB6ZZ__C | MB6ZZ__G |
| MB6SE | Shoebury | 144.850 | 144.850 | 0.00 | CQCQCQ | MB6SE__C | MB6SE__G |
| MB6CL | Clacton (70cm) | 430.1875 | 430.1875 | 0.00 | CQCQCQ | MB6CL__B | MB6CL__G |
| MB6DS | Clacton (2m) | 144.8375 | 144.8375 | 0.00 | CQCQCQ | MB6DS__C | MB6DS__G |
Icom IC-E92D Information
How to set the E92D to transmit APRS data using the optional GPS mic: gb7wc.ukace.co.uk/D%20APRS.htm
Handy Links
Got a question on D-Star in Essex? Please ask below…