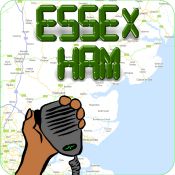 Essex Ham launched in 2011. It originally launched as a website to help new Foundation licence holders to get on-air, but thanks to input from many Essex-based amateurs, Essex Ham has been expanded to help promote and support the amateur radio hobby, as well as becoming a handy place to gather and share information.
Essex Ham has three main aims:
Promote

: To raise awareness for the amateur radio hobby, and encourage people to take part

Support

: To offer help, advice and information to those getting started in amateur radio, and to amateur radio clubs.

Share

: To share information about amateur radio activities, clubs and training in Essex.
Essex Ham is an RSGB-affiliated amateur radio club, often referred to as a "virtual" amateur radio club.
What Essex Ham offers:
Essex Ham continues to evolve, based on suggestions from our regular visitors, supporters and contributors. Here's a summary of what we do:
Supporting local clubs:
As well as providing a free service to amateurs in and around Essex, we also support clubs in the area:
Event Reviews – Where possible, we visit local events and report on the activity on our site, in some cases with video reports – We've covered events for local groups including CARS, DHARS, Essex CW Club, Essex RAYNET, SEARS, Suffolk RED, TAARC, TARG, and several others
Online Training – We've trained several hundred people using our FREE online course, which can be used stand-alone, or to support a club's existing training
Training Material – We have a full set of up-to-date Foundation training slides, handouts, videos and an online course. Our material is free, and is being used by clubs in Essex and around the UK
Support for amateur radio clubs – Guides, resources, help, videos and more
Web services: Essex Ham has provided hosting services and online surveys for local amateur radio groups.
If you run an amateur radio club in Essex – perhaps we can help? Contact us
One of our videos – See Essex Ham videos for the full list
If you have a question, comment or a suggestion, we'd love to hear from you. Please get in touch
Related Links
Essex Ham – Supporting Amateur Radio in Essex