The Realtek RTL2832U dongle is probably about the most useful thing that a ham can spend £15 on. It's a USB dongle that you plug into your PC, and with the installation of a piece of free software, you have a powerful Software Defined Radio (SDR) that can receive signals from 24MHz right up into the GHz range.

We've already put together a page on this device (see Realtek SDR for under £20), but we're now adding this dedicated page to help with purchase, installation and usage of this handy little dongle.
Realtek RTL2832U SDR Dongle Availability

Here's where to get the original RTL-SDR dongle (R820T chipset), or the second generation blue model with the R820T2 chipset offering slightly better performance:
The dongle can be used as a Freeview receiver, DAB radio receiver and even for aircraft tracking, but on this page, we're concentrating on using this for FM and SSB amateur radio signals, to keep it simple.

Setting up the RTL Dongle as an SDR
Don't install any of the software that comes with the dongle. Instead, do the following:
Go to airspy.com/download and download "Windows SDR Software Package"
Extract the contents of the file you've just downloaded to a folder on your PC. We opted for c:\sdrsharp\
Run the file install-rtlsdr.bat – This will download and install the drivers for the RTL dongle
In the \sdrsharp\ folder, you will see a file called Zadig.exe – Run this to install the drivers
If you don't see your RTL dongle in the pulldown list, go to Options > List All Devices. Our dongle showed as "Bulk-In, Interface (Interface 0)". Select your dongle, and press the install driver button
Once Zadig has installed the drivers, you're good to go.
Starting SDR#
With the drivers installed, go to the /sdrsharp/ folder and select SDRSharp.exe to start the program.
From the pulldown at the top left, select "RTL-SDR / USB" as the source, and press the Start button (black 'Play' symbol)
The first thing you will want to tweak is the RF gain – which by default is set to 0. Go to 'Configure' (the cog symbol on the toolbar), and increase this. I have played with either setting the slider to 20dB, or using the "Tuner AGC" checkbox, and both seem to give decent results.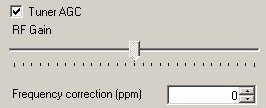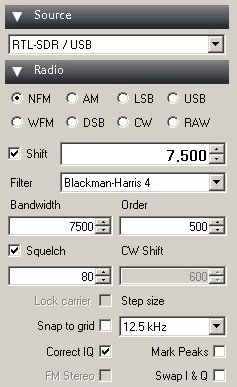 Next, it's a case of setting up the main SDR settings – some of these are personal preference and can be tinkered with. Assuming you're after something suitable for amateur radio, try the following:
NFM (Narrowband FM)
Bandwidth=7500
Squelch: ticked and set to 80
Order: 500
Snap to grid: Unticked
Step size; 12.5kHz
Correct IQ: Ticked
If you want to try out something that will work easily, try switching to WFM (Wideband FM) and tune to a broadcast radio station between 88 and 108MHz – If connected to even a basic aerial, you should be able to tune in to am FM broadcast station to confirm that you can receive and tune into radio signals.
Problems with the RTL Dongle
Here are a couple of common issues that we've discovered along the way… hopefully these answers may help…
No signals received
Use the Configuration button (cog-shaped icon) and check that the RF gain isn't set too low
Signals, but can't hear anything?
Check you have the right mode… NFM (Narrowband FM) or USB for 2m amateur comms
Make sure the "Unity gain" box is not ticked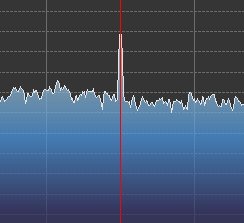 Large peak in the middle of the screen ?
Tick the "Correct IQ" button
Not showing the right frequency?
Ours too. The fix was to tune to a known frequency and then enter a frequency correction. We did this in Configuration (the cog icon). We entered a frequency correction (ppm) of "57", which worked for us – but other dongles may have a very different offset.
I need a better antenna!
The one supplied with the Realtek is pretty basic – much better to connect to a decent antenna. If you're after a connector, try this one: Portable MCX Adapter Cable at Maplin – I snipped off the supplied plug and replaced it with a BNC.
Having a problem we've not listed here? Get in touch, or add a comment below and we'll try to help.
Handy SDR# Add-ons
There are lots of handy plug-ins for SDR# – We're keen on the "Frequency Manager + Scanner plugin", which can turn your RTL SDR into a scanner – www.sdrsharpplugins.com
Low-price HF SDR?
Looking for an HF dongle that can cover the HF bands? Try the SDR Radio, which is based on this dongle's chipset.
Handy Links