Assuming you've passed your Foundation Exam, you'll need to get an amateur radio licence and your callsign from Ofcom before you can start transmitting. Here's a summary of how to get your licence:
Once you've passed, you will be posted a "Foundation Pass Certificate", which contains your candidate number. You may also be able to get this number from the club that held the exam, or direct from the RSGB.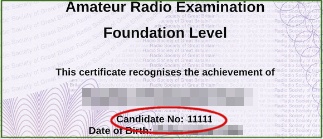 1. Create an Ofcom Account
Once you've passed, you can create yourself an Ofcom account online – you don't need to wait until you get your pass certificate in the post – you can do this as soon as you know you've passed. To create an account, do the following:
1. Go to https://ofcom.force.com/
2. Select "Register as a new user"
3. On the next page, enter your name, email address and phone to create an account with Ofcom.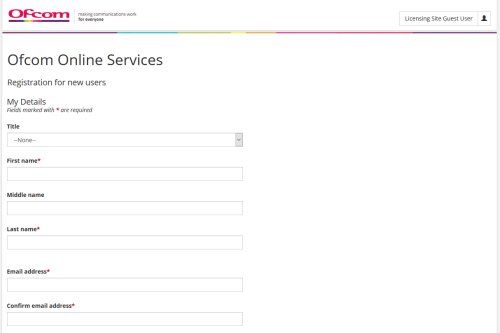 Once you have completed registration, you will need to keep a note of the email address you registered with, and your Ofcom password.
2. Applying for the licence
You now need to wait for Ofcom to be notified of your exam pass. It takes around 6 working days for your details to get posted by your exam team to the RSGB, who in turn notify Ofcom.
You should receive a "Foundation Pass Certificate" in the post, which contains your candidate number – the club that held the exam should also have this, so you can use this to shave off a day or so, without having to wait for the post.
To check if Ofcom has your details, and to get your licence, go back to https://ofcom.force.com, and select "Apply for new licence".
You will be prompted to choose the licence type. It's obvious which to pick.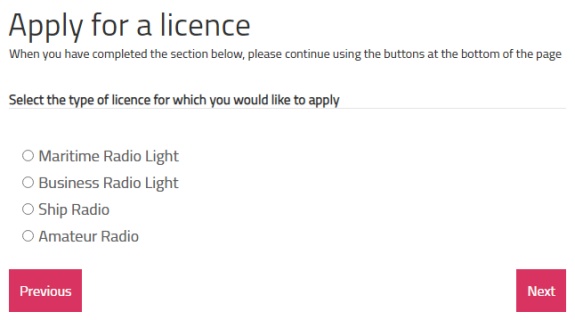 When prompted, enter your candidate number, as found on the RSGB certificate and press "Validate" – this will check whether Ofcom has details of your pass.
From the "Please select the required licence" pulldown, choose "Amateur Foundation Radio Licence"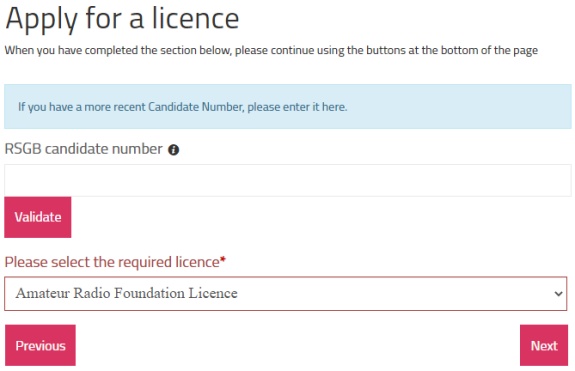 If Ofcom has been notified of your pass, then you will be able to pick your callsign.
If you get the message: "Your RSGB candidate number has not been validated against our database. This could be because your number was entered incorrectly or because you already have an application or licence against this candidate number.

If you get the message "If you have recently qualified, please allow time for your details to enter our system", this message means that the Ofcom database has not been updated by RSGB yet. You'll need to wait for the details to be passed from the RSGB to OfCom. This can take up to six working days.
3. Choosing your callsign
Once your details are in the Ofcom system and you have an Ofcom account, you can now create your callsign and get your licence. At Foundation-level, your callsign will begin with "M7" and you can choose the last three letters.
The M7 series for Foundation only started in October 2018, so there should be a lot of choice of available M7 callsigns.
Want to check if your preferred callsign is already allocated? Use our Foundation M7 Callsign Checker.
The best option is to scribble down a list of possible callsigns that don't seem to be in use, and when you're on the Ofcom website, try to get the callsign you're after in order of preference. If you're unable to find anything you like, or you don't care, you can choose to be issued with the next callsign in the sequence.
4 Downloading your licence:
Once you have your callsign, you can then download and print your Amateur Radio Licence… and you're ready to get on air with your new callsign!
You can download your licence from within your Ofcom account at https://ofcom.force.com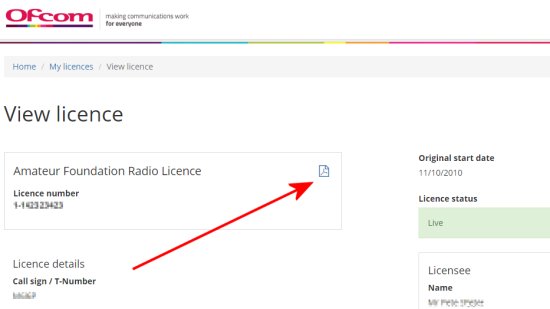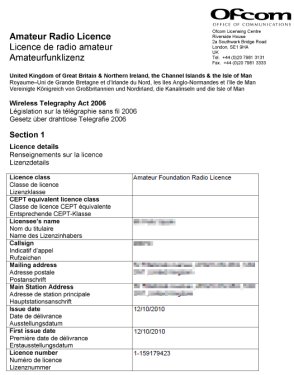 Many find that it's only necessary to print the cover page, as this is the part that contains your personal details and confirms you as the licence holder.
Note that the licence includes a "#" hash symbol in your callsign, to denote where a regional separator (e.g. "W" for Wales), needs to go

Want to print the amateur radio licence terms? They're here: UK Amateur Radio Licence – Section 2
Any questions about the process? Please ask in the box below, and we'll try to help.
Related content