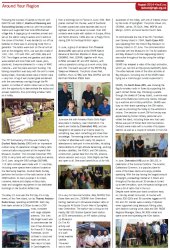 Once again, amateur radio in the county of Essex is very well represented in the latest issue of the RSGB's magazine, RadCom.
The August 2014 issue of RadCom is due to be hitting doorstops very soon and at the back of the magazine, Region 12 dominates the "Around Your Region" section. Coverage of Essex club activity spread across three pages, and here's a summary of what's covered:
RadCom Region 12 News for August 2014
BADARS: Construction Contest Results – Well done to Edwin G0LPO for winning the club's shield
BADARS: Annual Fox Hunt in June, with Howard G6LXK as the fox
CARS: June Skills Night Report – Almost 50 in attendance for this free monthly event with topics includinf high altitude ballooning, live PSK and CW stations, satellite demos and construction
CARS: Summer Solstice GB1JSS Event – The longest day, with almost 30 amateurs in
attendance at Galleywood Common – a nice group photo's featured
CARS: RMS Empress of Ireland – 100th anniversary commemoration. Operating at GB100MWT from Sandford Mill in Chelmsford – Pictured are James 2E1GUA and Charlie M0PZT
Essex Ham: All Saints Church – Amateur Radio Awareness – spreading the word about our hobby, in partnership with Chelmsford Calling
SEARS: Armed Forces Day Event – The team operated a live CW station on Canvey Island as part of the Island's appreciation of the armed forces
SEARS: Bay Museum Activation for Museums on the Air, including a link to the club's video clip of the day's event
TAARC: RSPB Nature Reserve Event – The club's first field event, operating with the callsign GB6BWS "Big Weekend Sleepover"
TAARC: Back to Basics Club Night by Dave G4AJY from SEARS
TARG: Four day Two Tree Island Event in June operating as GB2HBT, plus a picnic
RadCom is posted free of charge to members of the RSGB.
Members of the Essex Ham website can download a PDF version of the August Region 12 "Around Your Region" via the Member's Only section of our site. Essex Ham Member's Only
Related links