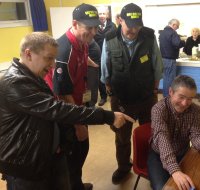 This coming Monday, the 21st of July 2014, is the next CARS Skills Night.
As regular attendees know, the Skills get-togethers are a great opportunity to chat, swap ideas, and get hands-on with something new – All are welcome, regardless of club affiliation, licence and experience levels, and the evenings are generally a good mix of hands-on demonstrations, show-and-tell, and practicals.
Here is what's currently planned for the July Skills Night:
Construction workshop: Back by popular demand. Need some advice, help with a lead, or some project ideas? Come along and we'll try to help
Software Defined Radios (SDR): A demonstration of using SDRs, as requested by attendees
Using Antennas – Peter G0DZB demonstrates tuning long-wire HF antennas, and Carl G3PEM looks at dipoles and antenna modelling
Echolink: It's been a few months since Jim 2E0RMI ran a live Echolink station, so he returns this month
Working Satellites: Steve M0SHQ returns with advice on how to track and work amateur radio satellites
Morse Code: No live CW station this month, but Essex CW Club will be there with a table to offer help and advice
Portable Operations: Have a look at some /P kit for working out-and-about whilst the weather's good
Quiz: Test your amateur radio knowledge, just for fun
Show-and-tell: All are welcome to bring along any items for show-and-tell
Help and Advice:
Representatives from CARS, Essex CW Club, the Essex Repeater Group and Essex Ham will be on-hand, and will be happy to answer your questions
The July meeting looks like being a busy one with something to interest everyone, so make sure you come along on Monday and don't miss out!
The event is open to all and there's no charge for attending the CARS Amateur Radio Skills workshops. Tea, coffee and biscuits will be available throughout the evening and an optional small donation to the tea fund and hall hire would be appreciated.
Skills Night Video
Not sure what to expect? See our video of our May 2014 Skills Night:
Location & Map
Venue: Danbury Village Hall, 2 Main Road, Danbury, Chelmsford Essex CM3 4NQ – 7pm to 9pm.
CARS Skills Night In The Press
The June Skills Night got a mention in RadCom this month: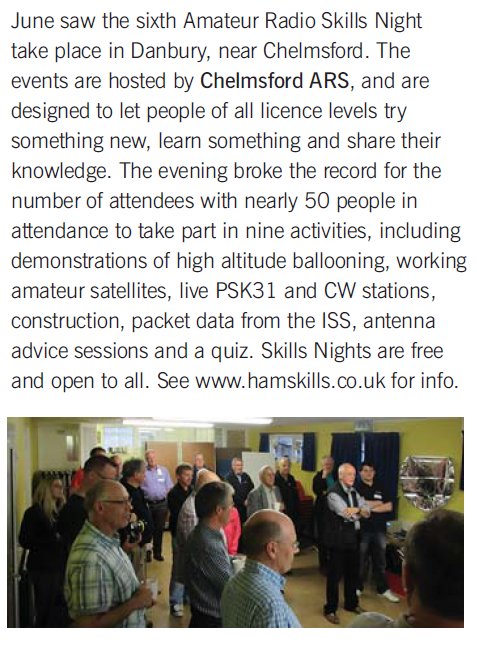 Looking forward to seeing you on Monday for a fun Skills Night
More information