Saturday the 21st of June 2014 was the year's longest day. To celebrate the June Summer Solstice, lots of amateurs from Essex and beyond made the trip to sunny Galleywood Common for a day of radio. Here's a report on the busy day operating GB1JSS, the special event callsign:
The longest day obviously means the greatest amount of daylight, and events organiser Charlie M0PZT was onsite not long after 5am, getting the first of the stations up-and-running. By 8am, Charlie had been joined by Mark M6RKC, Steve M0SHQ and Pete M0PSX helping to get the site's HF, 2m, data and satellite stations up-and-running.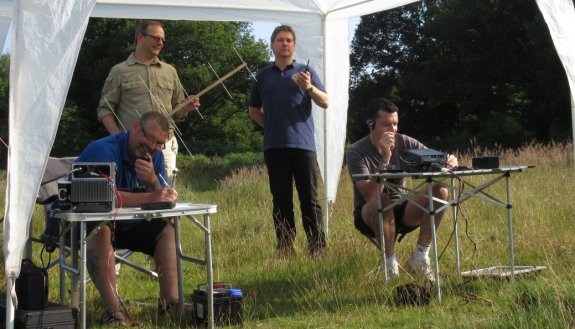 Band conditions weren't at their best throughout the day, as confirmed though local contacts with other special event stations in Essex and Kent, but some great contacts were made nonetheless. The day wasn't about simply making loud noises on HF or racking up contacts though – it was the chance to for local amateurs to get together, try out new purchases and having a go operating different modes. For those new to the hobby, it was also the chance to work a special events callsign, get some valuable on-air experience and share ideas.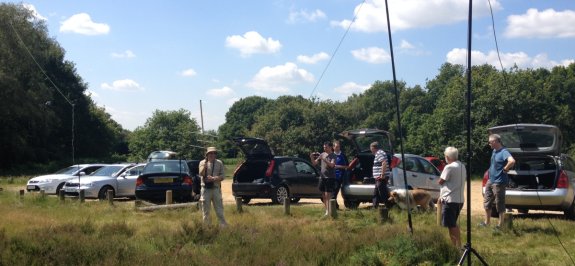 The event was hosted by the Chelmsford Amateur Radio Society, and it was great that so many attendees of CARS' latest innovation, the Skills Nights, turned up. "Working portable" is in the top 5 most requested topics for Skills Nights, and this event was a great chance to put skills to the test. Here's just a flavour of some of the activities:
Working satellites – Steve M0SHQ brought his home-brew satellite beam, and pulled in strong signals from several satellite passes, including the FunCube satellite
Peter G3SUY worked top-band from his car with a very long wire (not enough wind for the famous kites!)
Dorothy 2E0NCE had the chance to work her first Special Event pileup (and bring along the much-needed doughnuts)
Antenna experimentation – trying out recently purchased equipment
Promoting the hobby to the many passers-by, keen to find out what the wire in the air was all about
Pete M0PSX doing some data mode training
Lots of sharing – special thanks to Rob M0VFC from Cambs Hams for the filters to allow close-proximity HF working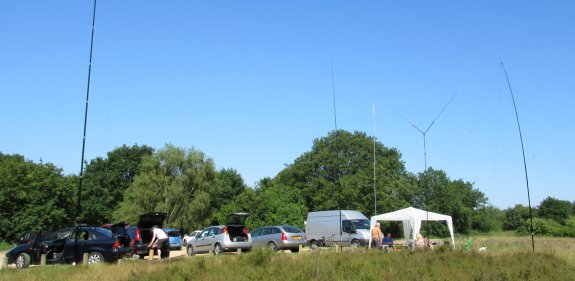 Most importantly, the event was getting people together – and a very impressive 30-or-so amateurs turned up across the day, not including other halves. It was so good to see so many familiar faces, plus the chance to put the face-to-the-voice of some locals and Monday Night Net regulars – great too to see some folk who've not been out to field events for a while, especially those with cappuccino and coffee cake!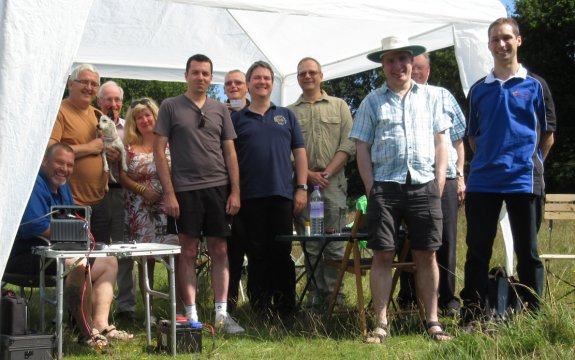 As with all events, people come and go throughout the day – Some of those who left, returned, including a small team that left the Galleywood site for a few hours, to attend an amateur radio promotional event in nearby Springfield.
Special mention to Rob M0VFC from Cambs Hams and Steve M1ACB for coming down, chatting, and helping to activate the GB1JSS special callsign – they'll be at the Ipswich Rally tomorrow completing their busy weekend of radio. Also to Ben Gamblin M0GKY who drove down from Warkwickshire for the event (See the report on Ben M0GKY's blog) and to Lucy M6ECG for coming along joining Dorothy 2E0NCE to get HF and VHF active with YL voices.
A number of Foundation holders took the opportunity to operate including Lucy M6ECG.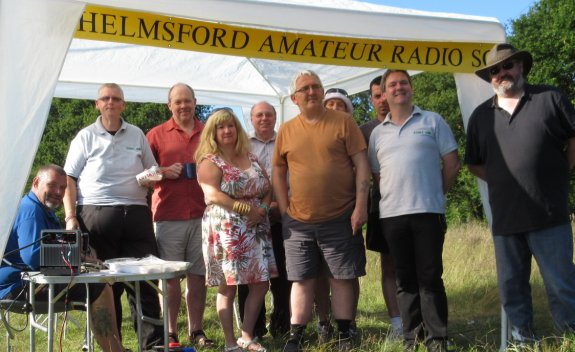 All-in-all, a great turnout and a fun day of radio, which is what our hobby's all about.
Here's a reminder of some of the weekend's activities – Amateur Radio in Essex 21-22 June 2014
Related Links
See Ben M0GKY's write-up of GB1JSS
Photo Gallery
A selection of photos from the June Summer Solstice field day, supplied by Pete M0PSX, David M1DCJ, Charlie M0PZT and Colin G0TRM
[ngg src="galleries" ids="26″ display="basic_thumbnail"]