Here's a full list of all of the FAQs on our site. Click on the arrow to see the answer:

Questions about taking the exam
(19)
Foundation Syllabus Question
(3)
The frequency range 431.0MHz to 432.0MHz has a restriction that states that it is not available for use within 100km of Charing Cross, but why?
The Primary User for that frequency range is the UK MoD (Ministry of Defence). Amateur Radio is a Secondary user, and as such can't interfere with the Primary user. The Primary User in this case has asked that it's not used within 100km of the centre of London (defined at Charing Cross). There is also an e.r.p. limit in place, which prevents use of a beam antenna at 101kms away from beaming in more than 10 watts.
Why don't the military want us chatting on 431-432MHz in and around London? Probably best not to ask!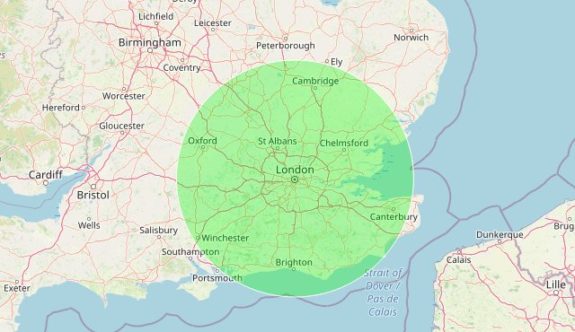 A question from one of our online Foundation candidates:
"On the question about who Is responsible for an in car installation I would argue that each was jointly and severaly responsible as a:- the installer has a duty of care to install safely. b:- the licensee is duty bound by his licence not to cause interference. c:- the car owner for not checking himself before driving off"
An interesting question. I'm no legal expert on this, so this is a personal opinion:
I can certainly see the logic of the argument, but here's my take:
Any work done on a vehicle has to be authorised by the vehicle owner, and that person has an obligation to ensure that anything that's done to their car has been done by someone competent.
Certain types of modification to vehicles needs to be notified to the insurance company. Failure to declare modifications may invalidate the insurance. Driving without insurance is illegal.
Let's assume that the person installing it is a personal friend who is used to installing car sound systems. You ask him to install a radio. He does just that, but he has no clue about amateur radio. Let's assume that the presence of 50 watts of RF on a specific frequency upsets the ABS on your vehicle and you have an accident. Who is legally responsible? The installer could quite rightly say that all he did was mount a box you gave him and connect it to 12V (like he'd do with an in-car sound system), and that it was your responsibility to ensure it was a) suitable, b) compatible, and c) that you had notified your the insurer.
Let's take a more extreme example of modification – let's assume you have modified your car to install blue neon lights under the vehicle. The legality of using these in the UK seems to be questionable, and from what I've read online, this type of modification would almost certainly invalidate the insurance. There are several other modifications that impact vehicle safety. So, who is legally responsible if there's an accident? The installer for doing what you asked? The member of the family who borrowed the car to drive to the shops? Or the owner for allowing an uninsured vehicle (with a possibly illegal modification) to be driven? I'm no lawyer, but I suspect it comes down to the owner.
Exam Syllabus
Regardless, for the purposes of this exam, at the time of writing, Section 6F1 of the Foundation syllabus states:
"Recall that it is the vehicle owner's responsibility to ensure that any radio installation is compatible with the vehicles electrical and management systems and does not affect vehicle safety. Recall that the fact of the installation may have to be disclosed to the vehicle insurers. Recall that professional advice should be sought for all vehicle installations."
Just my personal opinion – others may disagree, but in the interests of passing the Foundation exam, the text above is what the examiners are testing you on.
UK Law
If you're interested in checking into the actual law, it's in the "Road Vehicles (Registration and Licensing) Regulations 2002" – Part 4, 16 (1) covers alteration of vehicles, making it clear that it's the "registered keeper" who is responsible for notifications about modifications, so under UK motoring law, it's not drivers, passengers or installers.
Passenger?
We received a follow-up comment:
"If a Licensed Ham passenger keyed up a handheld radio and caused a car to crash, then who is responsible? "
First off, the syllabus item is about the installation, not the operation.
Secondly, what's being asked here, is who's legally responsible for the actions of a passenger – whether it's keying up, causing a dangerous distraction to the driver, or them applying the handbrake whilst you're driving at 70mph. A quick search reveals: "As a driver, you are responsible for the safety of your passengers and others on the road. When faced with a situation where your passenger is becoming a dangerous distraction, it is imperative that you do everything in your power to avoid an accident."
Personally, I still feel that if the owner has a device installed that potentially poses a risk to the safety of the vehicle (and invalidates insurance), then it's the owner's responsibility, not the passenger's fault for using the device. Will a passenger be fully aware of the electrical and management systems of the vehicle they've just got into, or the terms of the owner's insurance policy?
Your thoughts?
The above are just the author's personal opinion. Got a different opinion? Please share it by adding a comment below.
A question from one of our online Foundation candidates:
"I was wondering why foundation level users are not allowed to use HF radio at sea? I'm guessing that it has something to do with monitoring /standards and a permanent address but that does not make sense if you can have a /A or a /M suffix?"
An interesting question. I'm no legal expert on this, so this is a personal opinion:
Operating overseas
Foundation candidates will hopefully be aware that they cannot operate in other countries at Foundation – this is because most other country's administration don't routinely recognise the UK "Foundation" licence.
The UK "Full" licence, however, complies with an International standard called HAREC (Harmonised Amateur Radio Examination Certificate). Most countries recognise HAREC as acceptable, so a UK "Full" is accepted by a good percentage of countries.
Operating "At sea"
The Foundation licence allows you to operate from a vessel in inland and internal waters. The exact wording states that Foundation & Intermediate can't operate from a:
"vessel operating on the seaward side of the low-water line along the coastline as marked on large scale charts officially recognised by the relevant coastal state".
Section 2.14 of the October 2018 Ofcom Guidance for Licencees document states:
Generally speaking, the 'baseline' is the mean low water mark but can be a line across the mouth of a river estuary.
Beyond the baseline, you're in UK Territorial sea. Section 2.14 of the October 2018 Ofcom Guidance for Licencees document states:
The UK's territorial seas extend either for 12 nautical miles from the baseline or until a point is reached halfway to another country, such as France.
Beyond the Territorial sea, you're in International waters, or in another country's territorial waters.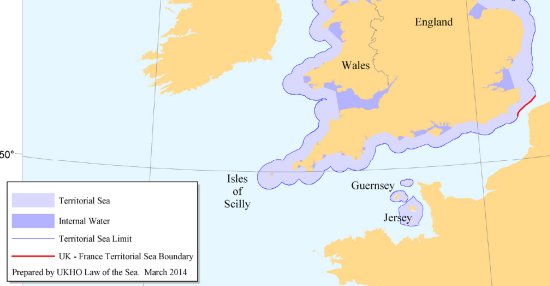 Ofcom has no jurisdiction outside the UK (and its territorial seas), so therefore can't cover transmitting in International waters or another country's waters.
The Full licence does allow operating from a vessel on the seaward side of the low water line, to the boundary of the UK territorial seas, as stated in the licence:
"2(1) The Licensee may only operate the Radio Equipment in the United Kingdom (including its territorial seas) subject to sub-clauses (a) – (c):(a) Where this Licence is a Full Licence only, and unless it is a Full (Club) or Temporary Licence, the Licensee may operate the Radio Equipment from a Maritime Mobile location;"
In summary, at Foundation and Intermediate, you'll need to get a copy of the appropriate Admiralty chart from the UK Hydrographic Office (UKHO) to find the low water line, and you can operate in a vessel that's on the landward side or from Internal waters. From the seaward side of the baseline, you'll need to get a Full licence.
Exception?
As you'll see from the comments below, this is open to interpretation. Section 2.14 of the October 2018 Ofcom Guidance for Licencees document states:
Holders of a Foundation or Intermediate Licence may use their Radio Equipment beyond the baseline but are limited to the extent of UK territorial seas.
This implies that Foundation can operate over the seaward side of the line. However, Section 2.15 of the same document says:
The Licence provides that only a Full licensee may operate 'Maritime Mobile'. This expression refers to a 'Vessel at Sea' and that expression, in turn, refers to operation on the seaward side of the low-water line but without imposing any further territorial restriction.
… which I read to mean that over the line, you have to be a Full licencee to operate from a "Vessel" beyond the line.
The Licence, under 17(1)(rr) defines a "Vessel" as:
any floating structure which is capable of being manned
and a Vessel at sea as:
A Vessel operating on the seaward side of the low-water line along the coastline as marked on large scale charts officially recognised by the relevant coastal state
So, my understanding is that for a Foundation licencee to legally operate over the seaward side of the low water line but within UK Territorial sea, they can't be on a floating structure, such as a ship or boat. Two examples have been given – Foundation could potentially operate from the end of a long pier, or an oil rig that's supported by legs on the sea floor.
(Just my understanding, which may be wrong!) Pete M0PSX
Want to submit your own question?