On this page, you'll find some information about our Foundation Training Course, and how it may be able to help tutors and amateur radio clubs
Course Overview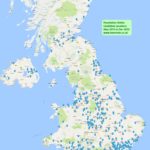 Demand for our online courses has been pretty impressive, which is great. In the first 12 months, almost 300 candidates took part one of our online courses (See our course stats page for numbers & map).
We're hoping that as well as offering direct training for those interested in the hobby, our course may be of use to clubs and trainers. We've identified the following possible uses that our course could be put to by existing trainers:
It could be that some students are unable to attend formal club training sessions for whatever reasons, and want to learn from home.
The course can also be a handy tool for allowing students to learn alongside a club's own training, or to get up-to-speed in the gaps between training courses.
We know not all clubs are able to offer training, so this gives clubs the option for online training, and the club to help with mentoring or hands-on support
Our course is a "tool" – just as clubs recommend the Foundation Licence Manual, we hope trainers will recommend hamtrain.co.uk too
We've also seen enquiries about using the course by potential 2E0s looking to get up to speed before their Intermediate, and from those with lapsed callsigns wanting to know what the current rules are
Our video content has been found to be very useful for learners who struggle with reading, or have dyslexia – students can watch the videos which explain each module, and take the short online multiple-choice tests.
Regardless, if our course is of use, great… as we want to get more people into the hobby.
Also, being blatant, some clubs are just interested / nosey, or looking for ideas on expanding their own courses, perhaps with their own online training option. No problem with that, and you can even have a look around the online classroom for ideas.
The following video gives an idea of what to expect…
How the course works
The way the course works is that a student registers with us online, and we send them the details in the form of a PDF. Courses are free, and we're currently running them once a month. Once the course starts, we email students with the details of the VLE (Virtual Learning Environment). We use 'Schoology' as our virtual classroom platform.
Once they're in, we deliver the course over nine modules (3 a week usually). Each module is aligned to the chapters of the book and the Foundation syllabus, which keeps it simple. Students can interact along the way, and we can see which students are struggling, by the online scores and engagement time.
There is a video with each module, and each module ends with a multi-choice quiz. There's a mock half-way through, and a full mock at the end.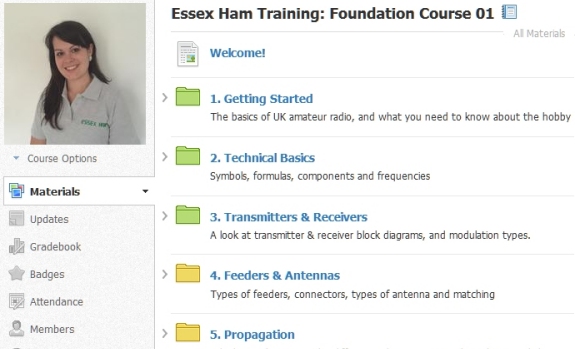 There's no charge for the course, and no strings attached. We do ask for an optional donation at the end of the course (£5 by PayPal), but that's totally optional, and helps to cover our hosting costs.
The course is run online mostly by Pete M0PSX. Pete's a Registered Assessor, has completed the RSGB's Train The Trainers, and holds a DBS (should any under 16s sign up).
Customised Versions?
As a trial, we've worked with two clubs in East Anglia who wanted to let their students learn online (with the club's guidance), and offer some face-to-face tuition at their normal club venue. The process has worked well, and has the benefit of allowing the club's training team to get feedback on a candidate's progress, to help with local mentoring. Talk to us if that's something you might be interested in.
Want to try it?
So, that's what we're up to. If this sounds interesting, the best thing now would be for you to take a look at the course in action. We have set up a dedicated demo area for tutors to try out. We don't update this as often as our main courses, so it doesn't have the very latest material – it's enough to give you a feel for how it works though. If you're interested in having a look, please contact us
Happy to help answer any questions you may have, and also to find out if this is something that might be of use / interest for your club.