We offer an online training course to help those in the UK to study for their Foundation Amateur Radio Exam. Courses run once a month, at the start of each month, and courses are free.
We've been running our online course since May 2015, and at the time of writing, over 7,500 people have enrolled. For a flavour of what the course is, and how it works, please watch the following video:
Need to start straight away?
Normally, our course runs for 3-4 weeks, starting on the first weekend of the month. Occasionally, we're contacted by people keen to take the course without waiting – typically because they have an imminent exam and need to complete our course without waiting for the next planned course.
For those with an exam booked looking to stuydy quickly, we have a fast-track classroom.
What is Fast Track?
Our fast-track classroom offers the same content as the main course, but rather than delivering the course slowly over 3-4 weeks, all lessons and course material are instantly available.
You'll get access to all 9 modules, course slides and course videos, plus tests at the end of each module, a mid-course mock and an end-of-course mock.
We don't normally recommend this method of study, as our tests have shown that students rush through, take multiple sessions in one sitting, and don't take time to learn or digest the material. Our stats show lower average marks when the course is not spread uniformly over a few weeks. Nonetheless, if you can't wait until the next scheduled course, or have an urgent need, we can arrange access to our Fast Track Classroom.
How do I join Fast-track?
For us to enrol you on Fast Track, you must have first registered on one of our courses – Sign up for Foundation Online.
We're able to run our regular free courses by having multiple candidates on the same course at the same time. Fast Track requires more admin time for us, so due to the extra overhead in setting up access to the fast-track classroom, we ask for a small donation where possible to help to cover our running/hosting costs.  If you'd like to go for 'Fast Track' and to support us by making a donation, please go to Donate to Ham Train.
You need to send us an email once you've made a donation, and we can arrange to set you up for the Fast Track option.
Access to the fast-track classroom is valid for 90 days only.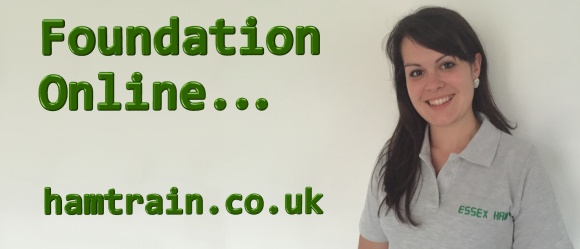 Got a question?
If you've got a question, check our Foundation Online Frequently-Asked-Questions section, or contact us.
Related content