We've created a series of Powerpoint slides to help with UK Amateur Radio Foundation training courses. These regularly-updated slides are free-to-use by any UK club, group or tutor.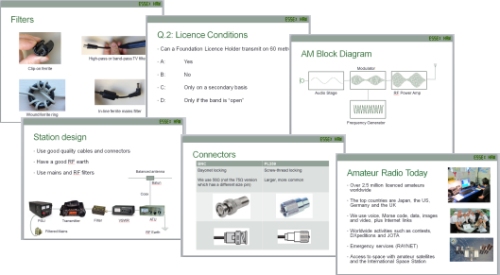 Our Foundation Training Slides are designed to be used in conjunction with the Amateur Radio "Foundation Licence Manual training book, and follow a broadly similar flow. They are also a perfect complement to our free Foundation Online training course. These use the generic "Ham Train" brand, as opposed to the branding of any specific club.
Download Ham Train Foundation Training Slides
The following Amateur Radio Foundation training slide sets are available:
About our free Foundation Training Slides
When creating the slides, the intention was to create training material that would be easy for tutors to use, and that would be familiar to candidates who'd already been studying using the RSGB's "Foundation Licence Manual". We wanted to create slides that would be easy to use in training sessions, and contain relevant photos and videos to support student learning.
Additional material, including handouts, mock exams and flash revision sets have also been created, to help students understand the topics, and prepare for the RSGB's Foundation exam. They're also available free – See  our  UK Amateur Radio Training Material
Training Videos
We've put together this short video clip that shows some of the slides in action, as well as introduces the hobby:
We have a number of other training videos that might be of help – See our dedicated
Amateur Radio Training Videos
page.
Want to use our slides?
If you are part of a UK amateur radio training group, or you're an amateur radio tutor, we're happy for you to make use of these slides if you feel that the material would be helpful. Please note our usage conditions:
Material created by Essex Ham remains the IPR and copyright of the owners of www.essexham.co.uk
These slides can only be used by non-profit organisations in the UK, for the benefit of amateur radio training, on the condition that the original source, "Ham Train" and/or "Essex Ham" is acknowledged
You are not permitted to remove the "Ham Train" / "Essex Ham" branding, re-brand the slides as your own, or give the impression that you created, or own, the content
We would ask that you register as a tutor on our site, to let us know that your group / club is using our slides and videos – that way, we can let you know of updates and new training material. You may also want to sign up to our Tutor's Newsletter.
Commercial use, commercial distribution and/or sale of this material is strictly prohibited.
Our training material may be copied and distributed to students and instructors on UK Foundation training courses, subject to the conditions stated above. We ask that the material is not re-published online or in electronic format (to prevent out-of-date copies from circulating and causing confusion).
Other Training Material
Here are a couple of handouts which may be handy for use on training courses – Taken from Essex Ham's series of Getting Started Guides.
| | | |
| --- | --- | --- |
| VHF QSO Script | This is a script for a basic VHF simplex contact, part of the Foundation Training Course | Word Doc | PDF File |
| HF QSO Script | This is a script for a basic HF simplex contact, part of the Foundation Training Course | Word Doc | PDF File |
| Just Passed? | Just passed Foundation? How to get your licence, and next steps | PDF (Essex) |
| Foundation Course Checklist | Quick reference sheet showing what's required for running a Foundation course | PDF File |
Online Training Course
We now offer an online Foundation training course. If you're involved with training, this home-learning course could be of use to your students. More: Foundation Online Training Course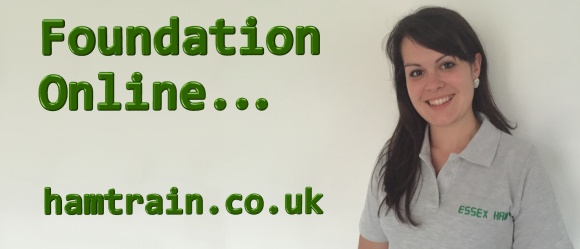 Looking for more training material?
See Essex Ham Amateur Radio Training Material for a list of our free training material.
Also, see RSGB Training Resources
Related content
Disclaimer
The material created by Essex Ham is for training purposes. It has been created in good faith to assist students and trainers. The content creators and site owners accept no liability whatsoever for any inaccuracies in this material. If you decide to use this material, you are encouraged to check that you have the latest version, that the material is current and accurate, and that it is appropriate for your needs. The material is supplied as-is, and we hope that you find it of use.
Our slidesets and training material continue to evolve. If you spot something that's inaccurate, that we could do better, or have a request / suggestion, please get in touch. Where possible, we'll update the material and make new content available.