On this page, you'll find files related to the Foundation Online training course. This includes links to downloadable PowerPoint slides, and a full video of each module.
Syllabus Changed from 1st of September 2019

The RSGB has changed the Foundation syllabus for exams after 1st September 2019, with exams becoming harder! Material currently on our website is only suitable for exams BEFORE 1st September 2019. Do not use this for exams after 1st September.
Student? If you're looking to take an exam AFTER 1st September, please add your details on our Course Registration page, and we'll be in touch when we're able to help with new course material.
Tutor/Club? Join our  Tutor Discussion Group where we can help with slides and videos for the new syllabus.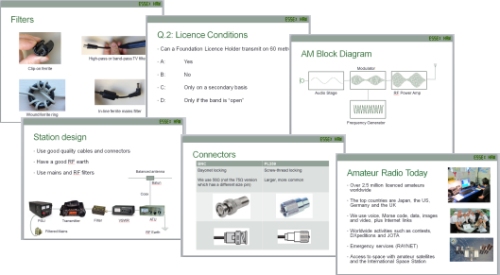 Quick Revision Video & Audio:
The following Quick Revision Video may be handy when studying. It doesn't cover the entire syllabus, just some of the more tricky areas.
It was put together for those looking for a single video that covers some of the more tricky areas of the syllabus, in a fairly short package. Hopefully, you'll find it useful.
The can be downloaded as an mp4 video and also as an mp3 audio file – handy for your smartphone or tablet. See our Ham Radio Quick Revision Page for the download links.
Related Links