This page contains material that forms part of the Essex Ham Foundation Online training course, and is intended for those studying using our online course.
Quick Revision Video:
The following video is intended for revision, and does not cover the entire syllabus. It was put together for those looking for a single video that covered some of the more tricky areas of the syllabus in a fairly short package. Hopefully, you'll find it useful.
YouTube Version

You can make the video full-screen by clicking the square icon in the video's bottom-right.
Quick Revision Audio:
We've been asked to produce an audio revision guide, so that people can download it for playback in a car, when commuting, or during a spare moment. We've created an mp3 audio version of the video, which you can listen to online, or download to your smartphone / mp3 player. Hopefully, this is of use.
Quick Revision Sheet:
A handy one-page PDF, our Foundation Revision Sheet. You can't take this into the exam, but it's a handy quick reference guide!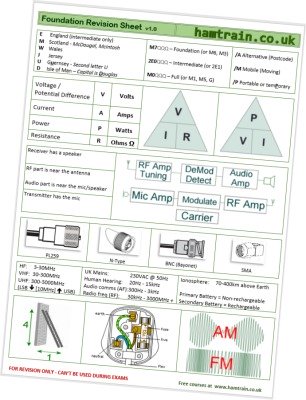 More: Foundation Online Course