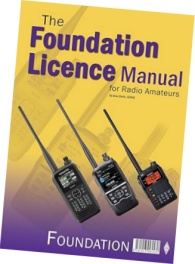 The official RSGB course book for Foundation is called the "Foundation Licence Manual" – Whilst the book is helpful, it's not essential – this course covers the entire syllabus, just as the book does. You don't need the book, but you may find it helpful.
If you're struggling with our course material and find you really need it in book form, it's available from Amazon in Kindle format, and there are free Kindle readers for most computers, smartphones and tablets.
For more on the book, see: www.essexham.co.uk/train/foundation-licence-manual/
The old book
The old book was called "Foundation Licence Now". The syllabus changed in September 2019 and the old book doesn't cover about 30% of the course material that was added or changed from September 2019. The old book is still useful, but does not cover the entire syllabus.