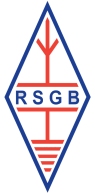 The May 2015 issue of RadCom, the RSGB's monthly magazine, is due to ship very shortly. It's always good to see Essex getting a lot of coverage, and again, this issue will feature a good overview of how busy amateurs from Essex clubs have been.
A PDF of the news section and the Around Your Region section is available for those registered with our site – link shortly.
RSGB supporting Major Tim Peake's ISS mission, a look at AROS, more 4m allocation for amateurs and the RSGB's about to get a Twitter feed
Around Your Region:
Here's a quick look at what gets a mention in the May issue: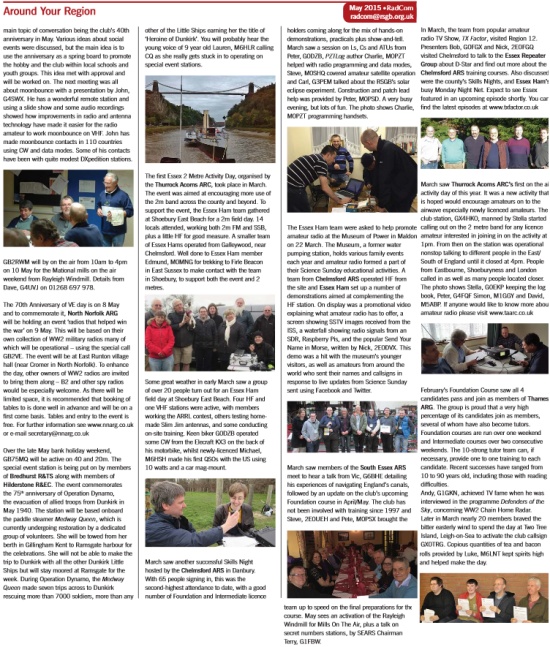 Braintree & District ARS: Bangers & mash meal, and a talk on moonbounce
Chelmsford ARS: A report on the March Skills Night, TX Factor visit & Museum of Power
Essex Ham: Reports include operating for the 2m activity day, the March Shoebury Beach field day, the TX Factor visit and demonstrations at the Museum of Power
Essex Repeater Group: TX Factor visit to talk about the GB7ZP D-Star repeater
South Essex ARS: Operating Rayleigh Windmill as GB2RWM on the 10th of May, March's talk on canals by Vic, plus the well-attended club meal.
Thames Amateur Radio Group: Foundation success, Andy G1GKN on TV and a Two Tree Island activation
Thurrock Acorns ARC: Two reports on the club's 2 Metre Activity Day in March
Also getting a mention in the May edition – Terry G4POP will be operating GB4VED from Burnham throughout May to commemorate the 70th Anniversary of VE Day
If you want to read the articles in full, without having to wait for your copy of RadCom to pop through your letterbox, take a look in the Essex Ham Members section for a PDF version of the 'Around Your Region' section.
Handy Links