Monday the 20th of April 2015 was yet another great Skills Night, hosted by the CARS training team in Danbury. Here's a short summary and a selection of photos from the latest Skills Night:
This month, high attendance continued with just over 60 people coming along to the busy Danbury Village Hall. Great to see so many Foundation and Intermediate licence holders in attendance, as well as lots of CW operators – but more of that later.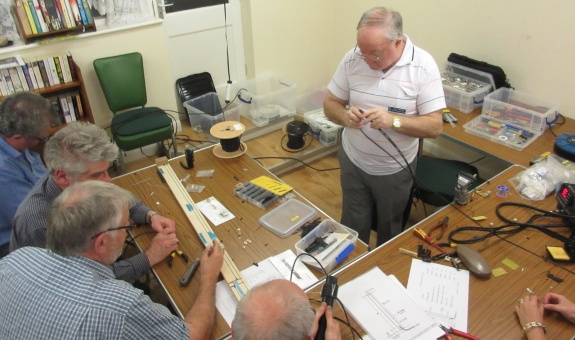 In no particular order, here's a summary of the evening's sessions:
Construction corner
Without a doubt, the busiest man of the evening was Peter M0PSD. As well as being on hand to help with soldering and patch leads, constructing Slim Jim antennas was the theme for the Construction Corner, and Peter had cleverly made a piece of wood of exactly the right length, complete with markings, for 2m Slim Jim construction. Long after the main hall was packed away, Peter was still working away helping people to complete their projects – full marks on bringing a great construction project to the Skills Night and for going the extra mile.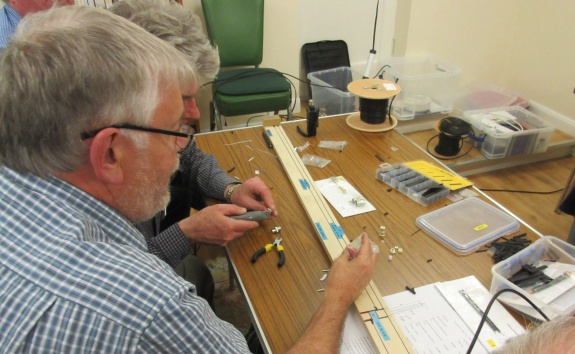 Raspberry Pi / SDR
Members of CARS will have no doubt enjoyed a talk from Peter G0DZB on the subject of the Raspberry Pi at the Society's meeting earlier in April. Peter brought along a table-full of bits to demonstrate, including an impressive SDR waterfall courtesy of his Elecraft KX3. There's always something interesting to see on Peter's table, and as ever, he pulled a crowd.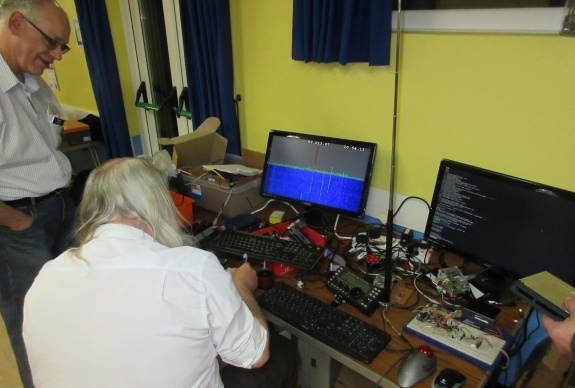 Radio Programming, Arduinos and more
Charlie M0PZT was busy in the smaller of the two rooms helping with programming radios (especially the Baofengs), demonstrating his Morse Arduino projects, and bringing along some of the newer RTL dongles (in a rather nice shade of blue).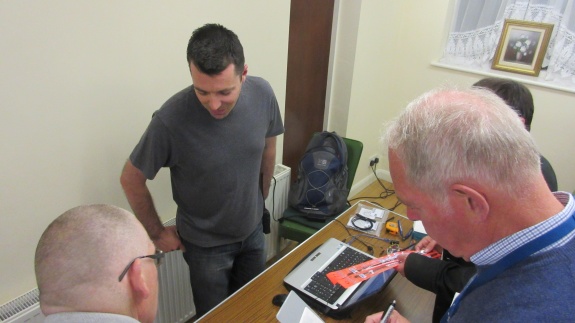 EchoLink & Ask Jim
As requested at previous get-togethers, Jim 2E0RMI returned to give a demo of how to set up and use EchoLink, the mode that combines RF and voice-over-Internet. Jim was also on hand as the "agony uncle" to answer any challenging newbie questions.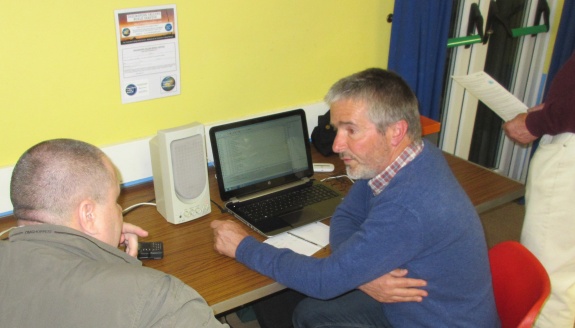 Morse and More
An extra-busy Essex CW Club table manned mostly by Steve G4ZUL, Rob M0KCP and Oliver M0WAG, the team was joined by Danbury trainer Andy G0IBN plus other members of the club – more later.
Callsign Badges
Those looking to show off their callsign when out-and-about had a choice of badges on offer this month – either a traditional 'analogue' badge, etched by Jim 2E0JTW, or a scrolling LED badge, courtesy of Nick M0NIB. Both types of badges were available in different colours (including Essex Ham green!)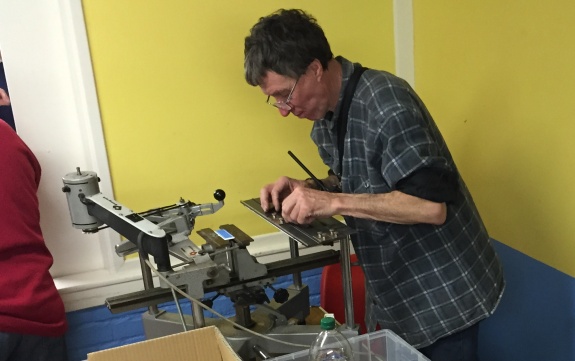 Essex Ham
On display this time around, PSK31 running on Ham Radio Deluxe, the 8″ Windows tablet running the £10 SDR dongle (and for a change, it worked on cue when Terry G3VFC asked for a demo), plus a video showing highlights of the last 12 months (running on a Raspberry Pi). Also on offer, free copies of Essex Ham's Getting Started Guides.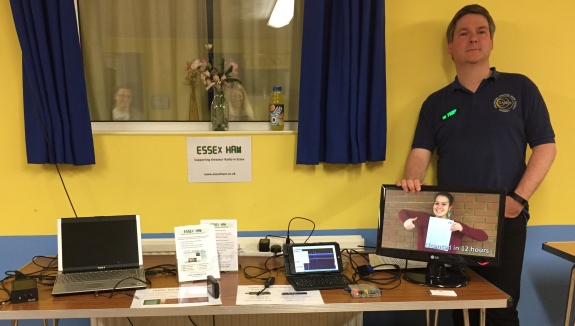 The Quiz
Quiz compere Clive G1EUC ran through the evening's quiz. This month's questions were put together by Carl G3PEM (thanks for that), with some interesting questions on prefixes and band plans. If you fancy writing a few questions, please get in touch with Clive G1EUC.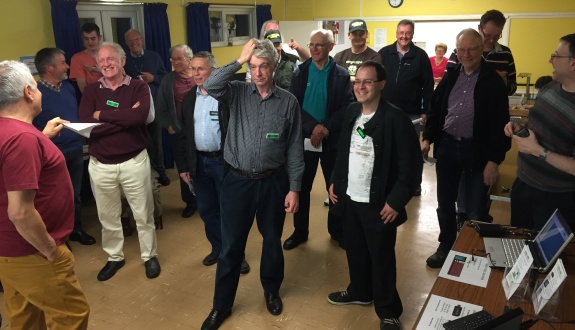 Essex CW Presentations
Thanks to the Essex CW Club for suggesting that the Skills Night would be a good place for some presentations. Andy G0IBN works very hard at Danbury teaching CW, and it's great to see so many people hit their words-per-minute milestones. Receiving awards and certificates were: Alan G0TUD (15wpm), Rob M0KCP (25wpm), Oliver M0WAG (15wpm), Steve G4HXY (15wpm), Steve G4GHO (20wpm), Brian 2E1RMD (5wpm) and Dean G4WQI (18wpm) – Well done to all
Essex CW Club's G4OAD Memorial Trophy was also awarded at Skills – This is given annually to the one person who's shown outstanding progress in learning CW, and this year, it was awarded to Rob Hutton M0KCP, who hit 25 wpm. The trophy was presented by the President of ECWARC. Well done to Rob, who's done lots to promote CW, not only at events and Skills, but also on-air with his net, and on Twitter.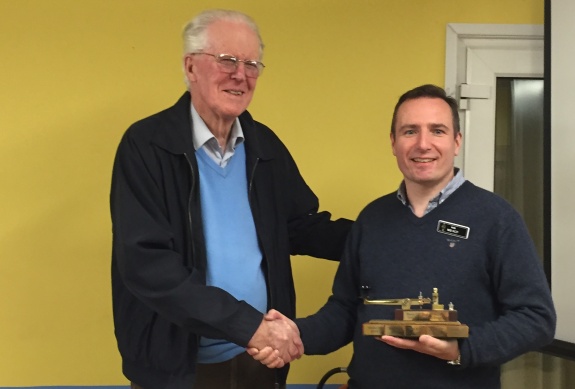 Thanks everyone!
A big thanks to everyone who helped out or brought something along to show. A big thanks also to David and Myra for the hard work backstage, to Ann Salmon (Mrs RMI) for the excellent cakes and to Sarah M6PSK for the logistical support (and for services to tree-climbing).
Thanks to everyone for the ongoing support of the Skills Night, and thanks to the CARS Training Team for hosting the event.
The next Skills Night takes place on Monday the 18th of May 2015
Related Links