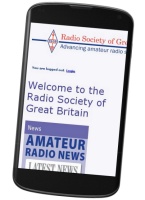 Today, the 21st of April 2015, sees a significant change taking place under the hood of the Google search engine. The results that you see when searching with Google will change to favour sites that are optimised for use on mobile devices.
Google is doing this to offer a better experience for those using mobile devices, and is being billed as a significant change (Source: Google Webmaster Central) – According to Google, around 50% of searches come from mobile devices, hence this is an important move for Google.
On this page, we take a quick look at how these changes may impact amateur radio websites, and how without action, some of our amateur radio club websites may be even harder to find after this change by Google.
Amateur Radio Websites
As someone who spends a lot of time accessing websites on mobile devices, it's fair to say that sites not optimised for mobile, are a pain – unreadable text, issues with scrolling, troublesome image sizes. Amateur radio websites seem particularly unfriendly in many cases.Whilst sites like the RSGB are showing as friendly, other, such as QRZ.com, fail.
With the new changes being rolled out by Google, we're likely to see some websites start slipping even further down the rankings, which is not great for the visibility of our hobby.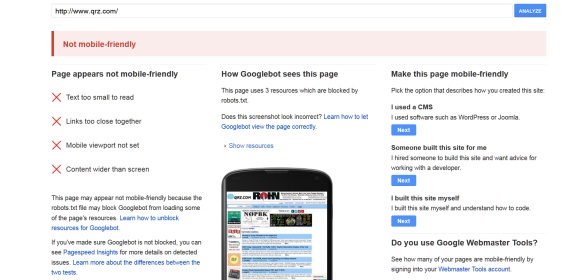 Checking Your Website
Google has released an online tool to allow webmasters to check their mobile friendliness:
Google Mobile Friendly Test
Essex Amateur Radio Sites
We tested each website for the 18 clubs in Essex that run a website, on the morning of the Google switch – Well done to the following sites for being Mobile Friendly:
Essex Amateur Radio DX Group
Essex CW Club
Essex Ham
Harlow & District Amateur Radio Society
Havering & District Amateur Radio Club
Thurrock Acorns Amateur Radio Club
Of the top ten club sites in Essex (based on search rank and traffic), only three pass Google's Mobile Friendly test – Here's the results, sorted alphabetically:
| | |
| --- | --- |
| Chelmsford Amateur Radio Society (CARS) | Fail |
| Colchester Radio Amateurs (CRA) | Fail |
| Dengie Hundred Amateur Radio Society (DHARS) | Untestable |
| Essex Ham | Pass |
| Harlow & District Amateur Radio Society (HADARS) | Pass |
| Harwich Amateur Radio Interest Group (HARIG) | Fail |
| Loughton & Epping Forest Amateur Radio Society (LEFARS) | Fail |
| South Essex Amateur Radio Society (SEARS) | Fail |
| Thurrock Acorns Amateur Radio Club (TAARC) | Pass |
| Vange Amateur Radio Society (VARS) | Fail |
Reasons for the FAIL for many of the clubs in Essex include "Text too small to read", "Links too close together", "Content wider than screen" and "Mobile viewport not set".
Combine this with other issues with club websites, such as poor attention to search engine visibility, page errors, and content issues (as highlighted recently on Charlie M0PZT's Spurious Emissions blog), it's clear why some club websites are struggling for traffic – and that's likely to become even worse when today's Google updates are rolled out. I'll be watching the rankings carefully to keep track of the winners & losers!
Google Friendliness
Before the complaints roll in – this is not a finger-pointing exercise on our part, neither is this a competition – this is to highlight an issue affecting many of the UK's ham radio websites and to encourage local clubs to think more about the online visibility of their clubs and the hobby in general.
Amateur radio club sites typically serve a small audience and get low traffic – so to  ensure that amateur radio gets the maximum exposure possible, it's important that amateur radio sites can be found when searched. With so many of the youngsters we're desperate to get into the hobby glued to smartphones and tablets, can we afford not to make sure that our sites are as accessible and visible as possible?
Written by Pete M0PSX (When not playing amateur radio, Pete is a website / SEO consultant)
Related Links
Update
Thanks to @PeterOnion for asking: "How does this effect results returned to people on proper computers with sensible sized screens? I don't care about /m friendly" – It seems that the changes only affect results on mobile devices, not on desktop searches… at least for the moment. With 50% of searches being done on mobiles, this is still a big issue though.