Monday the 20th of November 2017 was the third in the series of experimental Skills Night format proposed and promoted by the Chelmsford Amateur Radio Society.
For this event, the emphasis was on training practicals and construction, and the activities were driven by the new CARS Chairman and Training Manager, Peter M0PSD. Here's a summary of what was on offer:
CARS Practicals
The majority of the recent CARS Foundation course candidates were in attendance, getting hands-on with soldering and cable connectors in preparation for next year's Intermediate course. Peter M0PSD had put together a display board showing the working Intermediate practicals, which is an excellent way of showing students what's expected at Intermediate.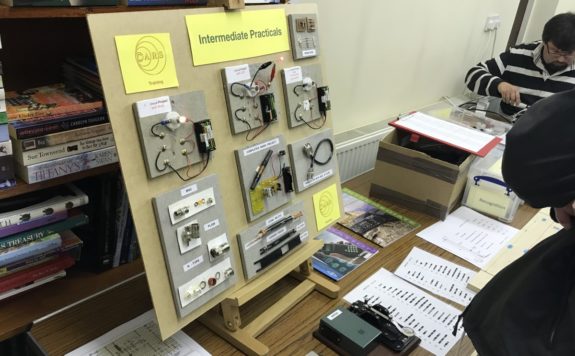 Slim Jim Antennas
Antenna construction has proved to be a popular feature at Skills Night in the past, and Peter M0PSD created a set of very popular 2m Slim Jim kits for this month's event. Priced at just £5, the kit includes a length of 450-ohm ladder line, co-ax, PL-259 plug, clip-on ferrite, PVC tube to use as an optional RF choke, wire ties, connection block and even some solder. In addition to instructions, the kit was also sold with a 1.5 metre length of wood, pre-marked as a template for ease of construction. A Slim Jim is one of the easiest (and most useful) antennas to construct, and with this kit, there's no excuse for not making one!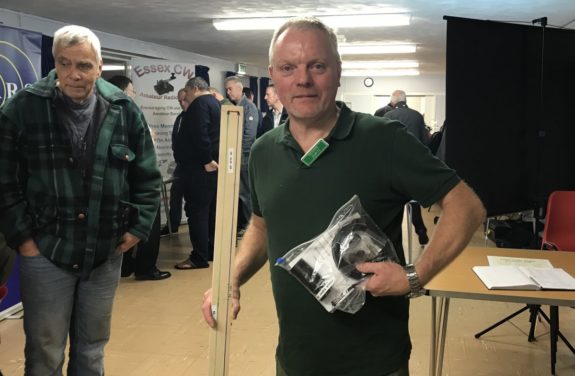 CARS Club Table
Return of the CARS club table, looked after by Peter M0PSD's wife Pauline. As well as the opportunity to sign up as a CARS member or pick up a club badge, hat or sweatshirt, a collection of connectors were available for purchase (handy with no W&S any more!), plus a demo of the two 'shack in a case' units that are successfully used at CARS training to make for a speedy set-up. The cases are put together by Peter M0PSD, who we gather may be able to help with custom woodwork for anyone looking to get a similar setup. Also on the CARS display board, details of a joint CARS/TARG coach trip to the Kempton Rally in April 2018.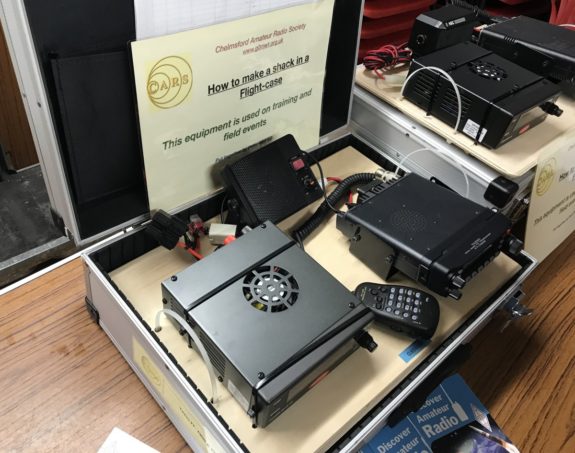 CARS SDR Demo
As a follow-on to last month, Murray G6JYB gave the CARS RFSpace SDR-IQ an airing on 80m, and showed a selection of various SDRs to suit all budgets.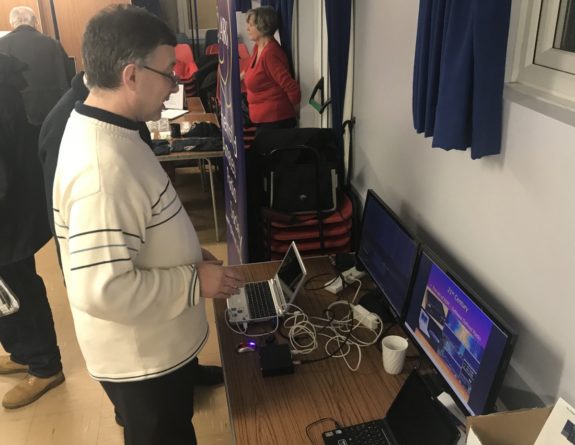 Echolink
Jim 2E0RMI returned with his popular Echolink demo, explaining how to work around the world with a basic analogue 2m radio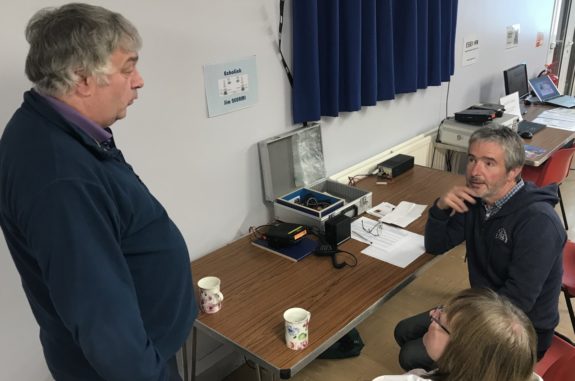 Essex Ham
This month, something different – a live demo of SSTV. A laptop loaded with MMSSTV software, sending SSTV images via an FT-857 and a Slim Jim on 70cm – picked up on an adjacent handheld connected to a laptop. The first time we've been able to demonstrate an end-to-end QSO on SSTV to truly demonstrate the mode.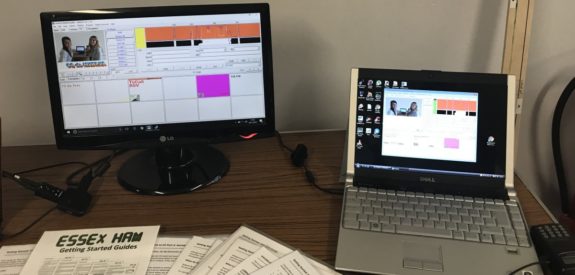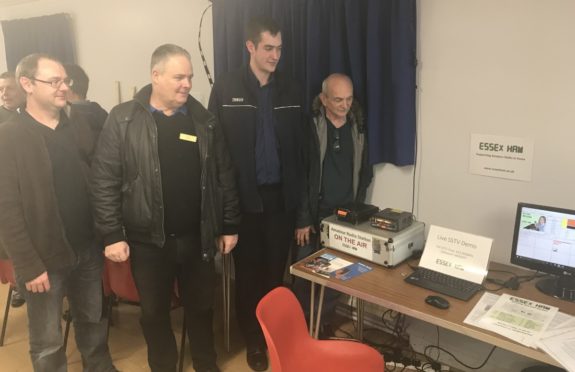 Also on offer, the usual selection of handouts, getting started guides, RSGB leaflets and information about Essex Ham's free Foundation Online course.
Rachel G6AMY was in the chair for the Monday Night Net, and a couple of curious members were interested in how the net is recorded and streamed. Pete M0PSX remotely connected to his home QTH to fire up the chatroom and the live audio stream, plus start the tapes rolling. Here's a screenshot of how last night net looked…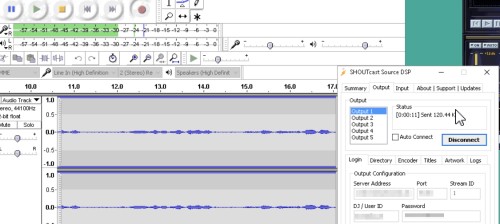 Essex CW Club
Dean G4WQI and Rob M0KCP, flying the flag for all things Morse – a regular and welcome addition to Skills Night since its launch in 2014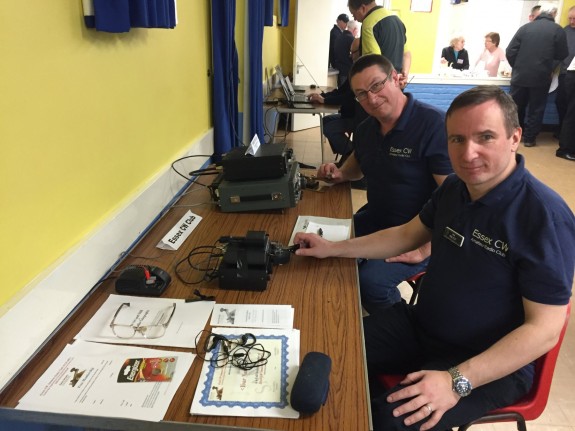 Badges and Pens
Regulars Jim 2E0JTW and Glynis 2E0CUQ were along with the smaller of their two trusty engraving machines, to make customised badges and pens.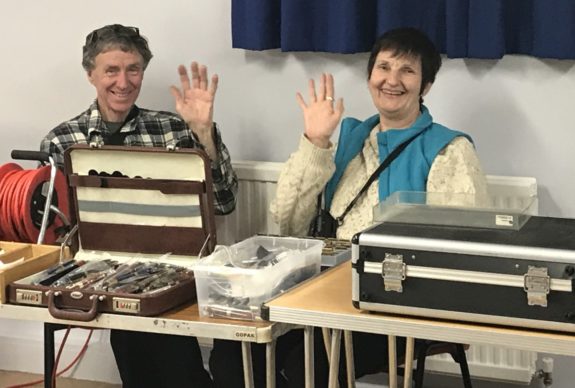 CARS Quiz
Quizmaster Murray G6JYB in fine form with a mix of questions for all levels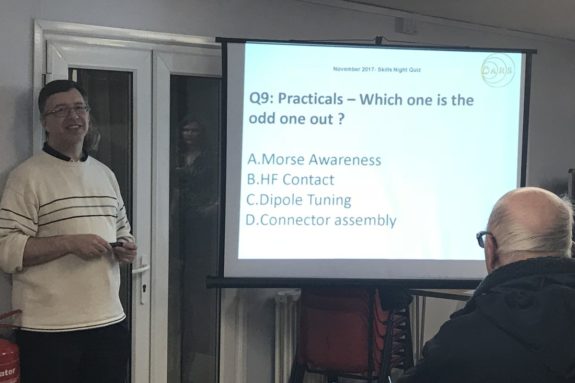 Refreshments
Well done to Myra M0MYR and Ann, hard at work all evening on Tea and coffee duties. Special thanks to Ann for the excellent home-made cakes – and Happy Birthday for yesterday Ann!
Related Links
Involved with a club in Essex? We can help to promote your club's event to the amateur radio community. Send us your events news, and we'll help to promote your event to amateurs from across Essex and beyond. If your club's events aren't being featured, get in touch with Essex Ham, or find out more about how Essex Ham supports local clubs.