The first Essex Skills Night of the year took place on Monday the 18th of January 2016 and celebrated its second birthday in style with over 70 people braving a chilly evening to come along, try something new, chat with friends, and enjoy all that the evening had to offer. As ever, this month's evening was hosted by the Chelmsford ARS training team, at the Village Hall in Danbury.
The first two years of Skills have been something of a whirlwind. Over 240 unique callsigns have attended since the event's launch. Last year, the attendance was an average of 66 people, with a peak of 93, with a high ratio of Foundation, Intermediate, SWL and amateurs-in-training coming along.
Here's Essex Ham's summary of the first Skills Night of 2016: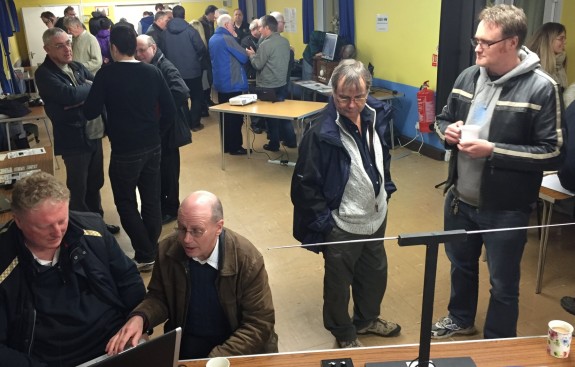 The evening was another cracker, with a great mix of regular features and some surprises. People attended from all around the county, and beyond with three members of MARTS making their now-regular trip from Kent, plus Steve M1ACB (RSGB Regional Manager for Region 12) and Dave G4HUP (Leiston ARC) travelling from Suffolk. A good mix of different licence levels and representatives from different local clubs, which is all a big part of the Skills atmosphere.
Here's what was on offer:
Construction – A room dedicated to antennas, soldering and construction device. Lots of antenna projects on the go in the busy room managed by Steve G4GHO, Alan M0IWZ and Chris G0IPU.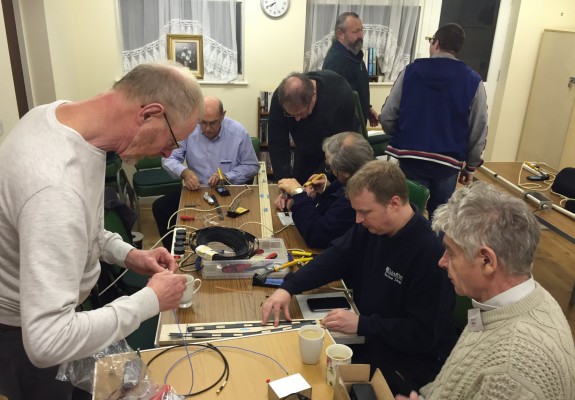 Digital Voice: – A table dedicated to Digital Voice with Paul G7BHE demonstrating both DMR and D-Star. There continues to be lots of interest in all things digital, with changes to the DMR Talk Groups being a hot topic on recent Monday Night Nets, so it's great that Paul was on hand to help with common DV questions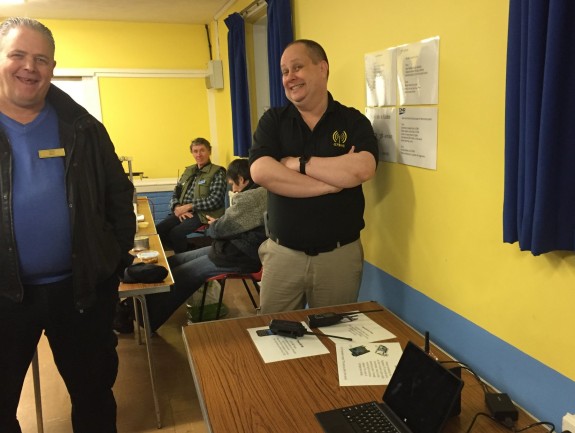 Programming, Data Modes and Ham Goodies – Sticking with digital voice, for the first time, Charlie M0PZT's handset programming service was offering codeplugs for the TYT DM-380 DMR handy, as well as traditional analogue programming for a wide variety of handhelds. For the first time, Charlie also had a KISS TNC running on an Arduino using AGW Tracker for APRS updates via a Baofeng. Also on offer, advice on logging and datamodes, plus a range of Ham Goodies essentials.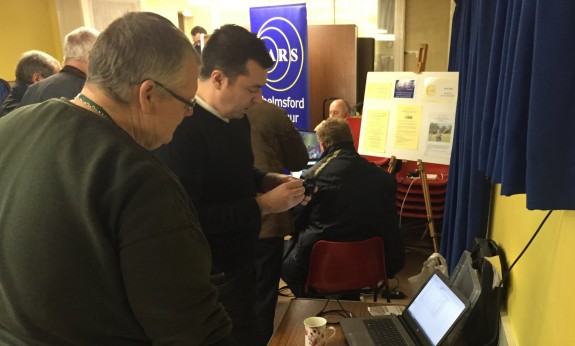 Computing History – Taking a break from slinky antennas, Andy G7TKK brought along some impressive bits of computing history in the form of a prototype Sinclair MK14 computer (with several k of RAM) and a rare Jupiter Ace. In contrast, Andy also brought along a £20 smartwatch showing how things have moved on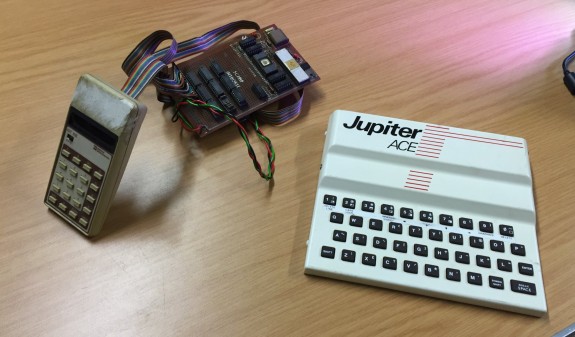 Essex Ham: A real mix this month. At one end of the scale, the latest Raspberry Pi Zero (just £4, if you can find one!) was in action, displaying Essex Ham's review of 2015 – at the other end of the tech spectrum, a 1940s RAP Radio Acoustic 646 valve receiver was on display. This vintage radio proved to be quite a crowd-puller, especially when it was discovered that a temporary modification had been made to allow it to play music wirelessly from a smartphone over Bluetooth. Also on display, a real-time updated map of active contacts being made using JT and PSK data modes (using pskreporter.info), the Linx 8″ Windows 10 tablet and some recently-updated guides for beginners.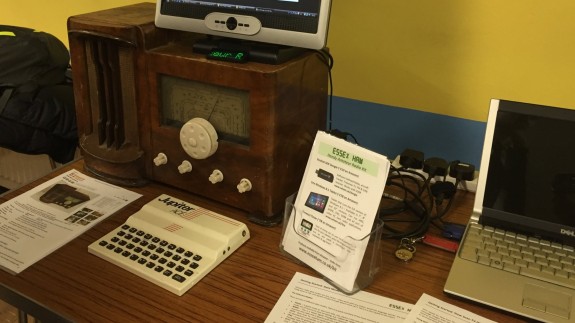 Morse and More – A live QRP CW station and various bits of Morse hardware courtesy of Rob M0KCP, Dean G4WQI, Oliver M0WAG and the team.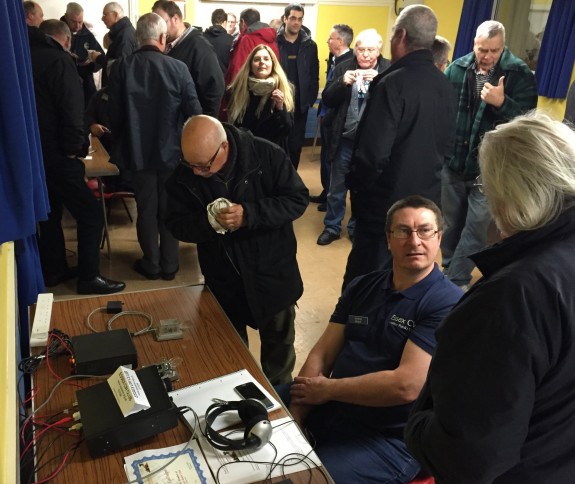 Chelmsford ARS – The CARS table was showing a video of some of its previous events, news of upcoming activities plus the opportunity to join the society. Also on the table, the training dipole and antenna analyser, to test how well visitors can get a low VSWR.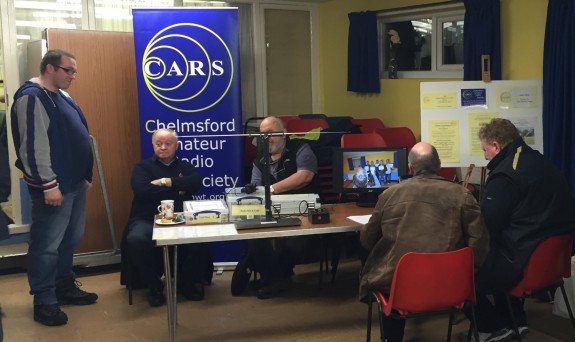 Pictured here at the CARS table, possible newcomer to the hobby Andrew, working with Trevor M5AKA. We met Andrew by chance at the Galleywood Gathering of Essex Hams on the previous day. Andrew's working on a project to launch a Raspberry Pi, and with the aid of social media, Trevor was able to contact local High Altitude Balloon guru Chris M6EDF (see SXHAM1 HAB launch)
QRP SDR – Surprise and very welcome addition to the evening was the mcHF QRP transceiver, brought along by George M1GEO. Many of us have been tracking George's progress with this project for a while on social media, and it certainly got some interest tonight. Thanks for the guest star!
Callsign Badges – For those with new callsigns or visiting for the first time, Jim 2E0JTW and Glynis 2E0CUQ were on hand to make engraved callsign badges all evening.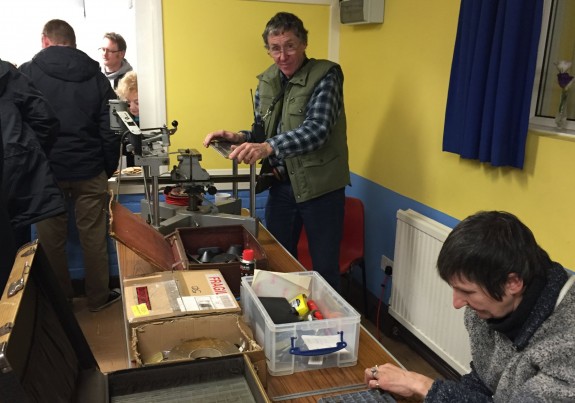 The Quiz – Run by Chris G0IPU. An odd but entertaining mix of questions as ever… although we never did get the answer to Question 11 – "How many radio hams does it take to change a lamp?". Feel free to answer in the comments section below!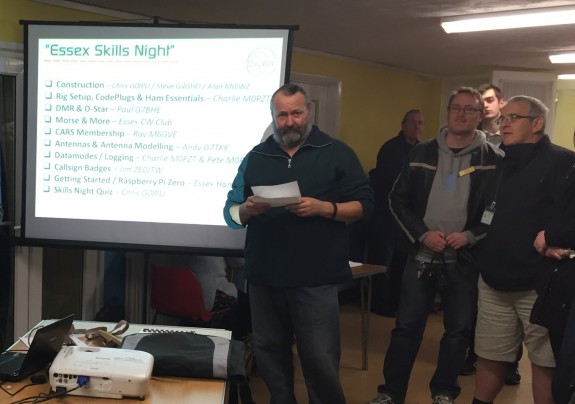 My thanks…
I'd like to express my personal thanks to those who turned up to help make the first Skills Night of 2016 a success, and to those who continue to support the Essex Skills Nights at Danbury.
A big personal thanks to Myra, Ann and David for handling the catering for the event – jam tarts were a hit Ann! Thanks too to Mrs Essex Ham Sarah M6PSK for her hard work and support.
A reminder that the next Essex Skills Night is on Monday the 15th of February – or why not check out the new Suffolk RED evening in Ipswich on Wednesday the 27th of January.
Thanks all, and 73,
Pete M0PSX
January 2016 Skill Night Photo Gallery
[ngg src="galleries" ids="66″ display="basic_thumbnail"]
Related Links