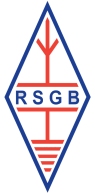 The February 2016 edition of RadCom, the RSGB's monthly magazine, is due to be delivered in the next couple of days. As always, we offer a quick look at some of the local activity in the upcoming issue, and highlight what features in the news section – Key for us is highlighting the work of Essex clubs and amateurs.
If you want to get a sneak peek before RadCom's printed version arrives, a PDF of the news section and the Around Your Region section is available on our site – See: RSGB Around Your Region PDFs.
RadCom February 2016 Issue:

This is the second issue to be published with the new look format, which seems to have been generally well-received.
In the main news section of the next Radcom: An important note about Internet Gateways and Wires-X Nodes operating against the NoV terms, news of the new RSGB Promotions Pack for clubs, Train The Trainers, and a new UK Spectrum Usage Report from the UK Spectrum Policy Forum.
The issue also includes an extensive "Old Timers Honours Role", which includes acknowledgement of 69 years of membership by Brian G3CVI (from CARS), 53 years of membership by Carl G3PEM (from CARS) and 52 years of RSGB-affiliation for the Harlow club.
Elsewhere in the issue, a mention for the activation of the G4ZU callsign on Christmas Day from here in Essex, plus three pages on the Tim Peake ISS contact.
Around Your Region:
Here's a quick look at what gets a mention in the February 2016 "Around Your Region" section – note RSGB has cut down the page count for this section, so there's less "Essex" than we've previously had before: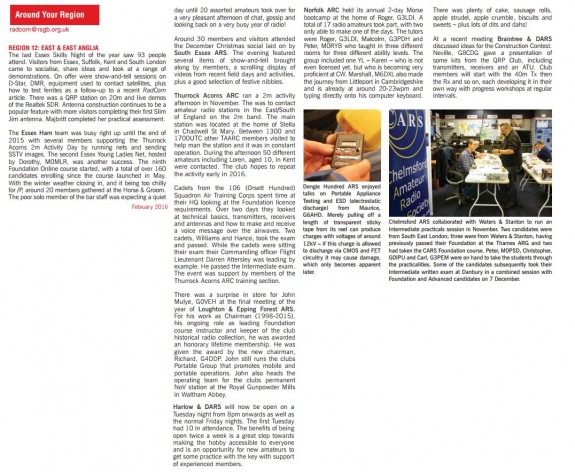 If you want to read the articles in full, without having to wait for your copy of RadCom to pop through your letterbox, take a look in the Essex Ham RadCom Club Newsletters section for a PDF version of the 'Around Your Region' section.
Involved with a club in Essex? We'd like to see even more of the local clubs appearing in Radcom. Send in your articles to Radcom, and whilst you're at, send us a copy too, so we can promote what you do!
Find this useful? We're not sure if our members find our monthly updates on Radcom of use. If it's something you'd like to see us continue to release monthly, please add a short comment below…
Handy Links