Thanks to one of our regulars for pointing out that we missed the chance to blow Essex's trumpet for the JOTA coverage in the January 2015 RadCom. There's a simple reason – our copy got lost in the Christmas post – Thanks to a tweet from Trevor M5AKA today nudging us that the online copy of RadCom was now available, we've been able to have a flick through whilst waiting for the replacement copy to arrive via snailmail.
In our roundup of the Radcom January 2015 In Our Region section, we reported on the coverage of events by CARS, Essex Ham and TARG, but missed that a photo of the SEARS JOTA on Canvey Island can be found on the cover, and the Basildon JOTA event supported by Essex Ham is featured on the contents page.
More importantly, Essex JOTA activity features on pages 44-48, with features on GB2CIS, the SEARS station (the first station mentioned, plus a plug for Vic's bacon rolls), and the Basildon JOTA GB1LC event (with mentions for Essex Ham members: Mike G1KOT, Chris M6EDF, Dorothy 2E0NCE,Kelly M6KFA and Sarah M6PSK):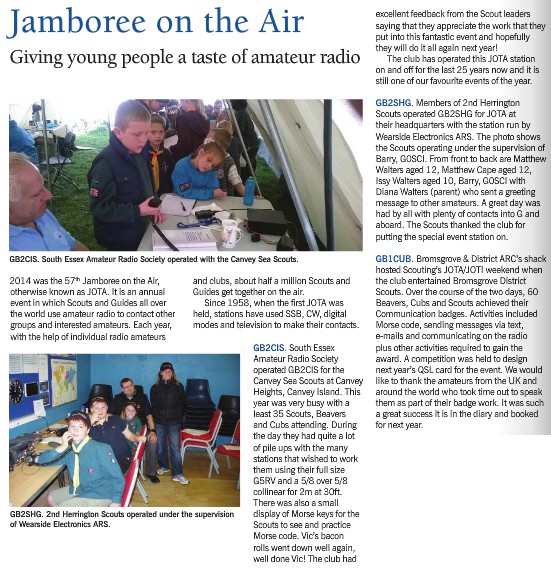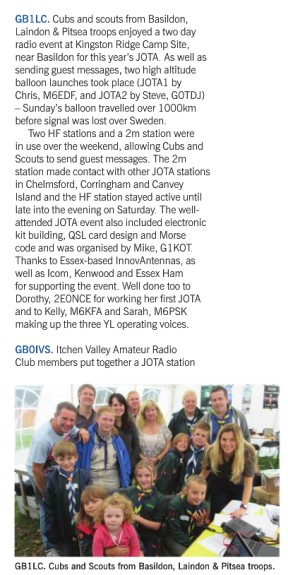 There's also a piece on GB2GP, Gilwell Park, which is right on the London-Essex border.
Well done to all of the stations active for the 57th annual Jamboree On The Air, especially those in Essex.
Related Links