Most of the astronauts above the International Space Station are licensed amateur radio operators, and aboard the ISS is a ham radio station. During the crew's off-hours, they'll occasionally use the radio to chat to other hams 250-or-so miles below them. They also take part in various educational amateur radio exchanges (a scheme known as ARISS)
Although I've not had any luck making voice contact with the International Space Station, I've received several voice contacts from the ISS, and made contact via data, Talking to an astronaut is still something that I'd love to do, and it's high on my "ham radio to-do list".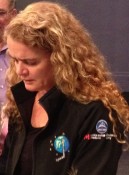 My aim of making a contact with NA1SS, the callsign for the International Space Station, moved higher up the list, following a chance encounter with the truly lovely Julie Payette a while back.
Julie is an astronaut for the Canadian Space Agency, and has flown on two Space Shuttle missions (STS-96 and STS-127). She's spent a total of 25 days in space, and has had two stays aboard the ISS. Although she didn't operate from the space station's ham equipment whilst on the station, she's keen to encourage any ham operators out there to give it a go.
After talking to a keen group of budding scientists at London's Science Museum in October 2011, Julie very kindly took the time to answer a quick question about ham radio from the space station, and to offer words of encouragement to those looking to try to make contact. You can hear her comments on a short podcast that I've just put together discussing amateur radio operations aboard the space station.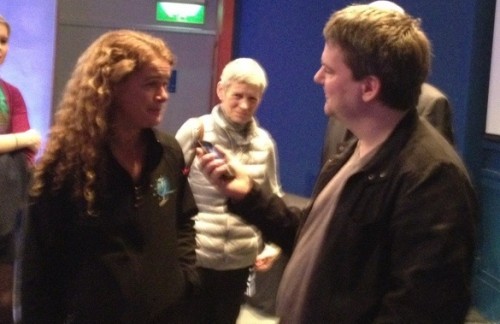 Thanks to Julie Payette from the CSA for taking the time to talk to me, and to fire up my desire to make that first contact with the ISS.
How to contact the ISS
Contacting the International Space Station is technically within every amateur's reach. Foundation licence holders have successfully made contact, and this can be done with modest power (5 to 10 watts) with modest antennas. You'll need a 2 metre radio to make the contact, and a lot of patience.
The first thing you need to realise, is that the ISS only in line-of-sight for a short window. It orbits the earth every 90 minutes, and the orbit only brings it over Essex a couple of times a day on average. So, you need to find out when you can expect the ISS to be overhead.
I use a tracking application called Orbitron on a PC, but from a web browser, you can get a feel for when the ISS will be overhead from the following site: ISS Tracker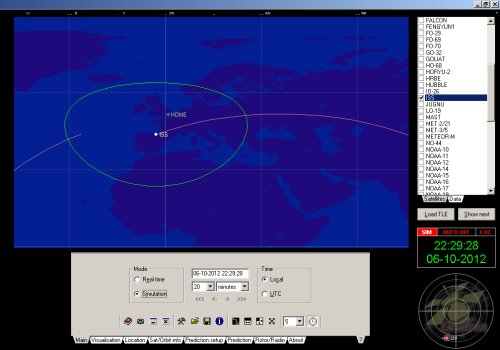 Even when you have line-of-site with the ISS, there are other challenges. First off, the astronauts are busy people, and only use their ham station on their off-hours, when they have nothing else to do. When they are using the radio, there are lots of other hams trying to make a contact too, and only a short window.
What can be rewarding, is to listen in on their chat. The ISS astronauts do fairly frequent exchanges with schools in Europe, and it's normally possible to tune in on 2 metres and have a listen.
For details of school exchanges, and more on ham radio and the ISS, go to www.ariss-eu.org
Making Voice Contact
Voice contact is pretty rare – astronauts rarely pick up the mic and call CQ these days. Amateur Radio voice contacts on the International Space Station (ARISS) are split-frequency (each station uses separate receive and transmit frequencies). The downlink is the earth station's receiving frequency. The uplink is the earth station's transmitting frequency.
In ITU Region 1 (Europe & Africa) should you be fortunate enough to hear an astronaut calling CQ on the 145.800 MHz downlink you should switch in your -600 kHz repeater shift so your reply is on the 145.200 MHz uplink.
Information on ISS amateur radio frequencies can be found at Information on ISS amateur radio frequencies is at http://www.ariss.org/contact-the-iss.html
First Contact (data)!
I managed to make first contact on the 22nd of October 2012. OK – So it wasn't a chat with an astronaut, but a packet of data… but it counts!
The packet station on the ISS is active quite a lot of the time – see status here: ISS Packets received. You can listen on 145.825MHz and hear digipeated packets.
The message was sent as a short packet at 20 watts, sent to ISS, which retransmitted the message to the ground – it was received by stations in the UK and Germany. Result!



Tried the ISS?
If you've managed to make contact with the ISS, I'd love to know. Please add your comments below.
Related links