Today, the 20th of June 2019, anyone in the UK with access to a 2m receiver had the opportunity to listen to a QSO between a UK school and astronaut Nick Hague KG5TMV aboard the International Space Station.
This is part of the ARISS programme (Amateur Radio on the ISS), and a huge amount of effort goes into making this happen – in the UK, mostly as a result of the efforts of Ciaran and the team at AMSAT UK.
Although we may know about the UK end of the contact – what of the coordination at the NASA end?
Listening to today's contact reminded me that we interviewed Kenneth Ransom N5VHO back in 2017 – Kenneth is the ISS Ham Radio Coordinator involved with making these connections happen. Our interview went out on our podcast and radio station, but we thought we'd take today's opportunity to publish it again – this time on YouTube:
ARISS Interview with Kenneth Ransom N5VHO (2017)
In the interview, we find out just how much effort goes into making this happen, why ARISS is so important, and what happens at the NASA end when things go wrong.
Thanks to Kenneth Ransom N5VHO, AMSAT UK and everyone involved with making these ARISS contacts possible – they're a huge benefit to the amateur radio hobby, and ofgfer a unique chance for youngsters to connect with an astronaut and get more engaged with space, tech and wireless comms.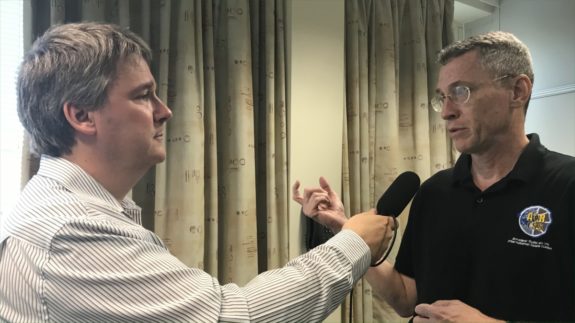 We hope you enjoy the video version of our 2017 audio interview.