Friday the 5th of October 2012 saw the first official club night of the newly-founded Thames Amateur Radio Group.
The meeting took place at the Jubilee Hall on Canvey Island, and was well attended despite the rain. Club members and the curious mingled with the club's founders to find out more about the club and what the group has in store for the future
After introducing the Thames Amateur Radio Group team, Chairman Mike Byrne 2E0NGY outlined the plans for the club:
"We'd like to involve everyone", said Mike 2E0NGY. "As well as If you have a passion for a particular mode, let us know, whether it's PSK31, WSPR, JT65, or any of the other modes. Whatever you want to do on a field day, we'll try to accommodate."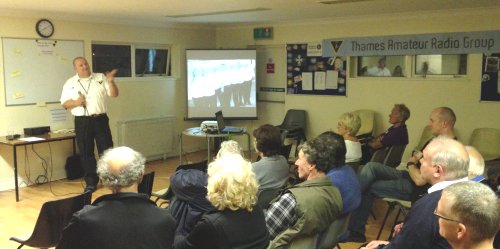 Plans for the Thames ARG include regular field days, club nights with talks on a range of subjects, plus weekend Foundation training courses. There are also plans to run sessions for Foundation licence-holders the opportunity to get hands-on with equipment, as well as get advice and guidance on how to progress with the hobby.
Thames Amateur Radio Group used the evening to announce the club's shack. This room is equipped with 2 metre and HF stations, as well as a construction area, and is available for use by the club's members.

Mike 2E0NGY outlined the thinking behind the shack:
"We'd like to provide something to the M6's so they don't disappear. With the shack upstairs, they'll be able to come in and operate and get some experience. Some of us have small gardens at home, so its nice to be able to come somewhere, under supervision, and have somewhere to work from"
Assembled guests were introduced to the new shack, and able to see a demo of QSOs using the PSK31 data mode. Other guests, armed with tea, coffee and cakes, were able to discuss their views on what the club should offer and talk to the club representatives to discuss what they'd like to see offered by the new club. The club also received some offers to put on talks for the club on topics such as Summits On The Air, Earth-Moon-Earth, and Direction Finding.
Related Links