We're writing this short guide in response to a question from one of our members. Here in the UK, amateurs are required to validate their licence every five years, so that Ofcom knows you're still active and the details on file are correct and current. If you hold a licence, see our guide to validating your UK amateur radio licence.
So what happens if you've let your licence lapse, or have taken a break from the hobby and are looking to return to amateur radio?
Reinstating your UK amateur radio licence
If your licence is no longer valid or has expired, you can't use Ofcom's online validation process to re-activate your licence and callsign. Instead, you have to complete an application form and post it to Ofcom to get your licence back.
There's no longer a fee for an amateur radio licence in the UK (It used to be £15 a year) – However note that to reapply for a licence that has lapsed, there's a one-off admin fee of £20 when applying with a paper form.
When you send off the application form to Ofcom, you will also need to enclose proof that you're entitled to hold a licence and that you previously held the callsign in your own name. Proof can take the form of any of the following:
A copy of your old licence or validation document
A copy of your City & Guilds Institute certificate
If your callsign has appeared in one of the RSGB call books, then a copy/scan of your entry is also acceptable as proof – The RSGB hold a catalogue of old yearbooks – try contacting the RSGB to see if they can help with a copy
Link to Licence Application form: Ofcom Licensing Page (Link to actual PDF form: Ofcom Amateur Radio Application Form OFW346)
About the application form
At the time of writing (May 2014), the form you need to complete is an 11-page PDF multi-purpose form that's used to get a new licence, apply for a club callsign, update a licence, or surrender a licence – therefore not all sections apply.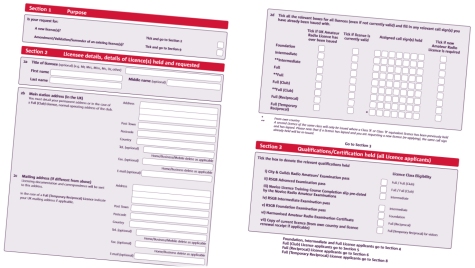 The form states that you should allow 14 days for processing once it's been sent in.
Payment: A fee of £20 applies. This can be paid by enclosing a cheque with the form, or by adding card payment details in Section 12 of the form. Visa, Mastercard, Switch/UK Maestro and Visa Debit/Delta card payments are accepted. BACS transfer, postal orders, Visa Electron / Solo cards, and cash payments are not acceptable.
If you have any queries, or require additional help with reactivating your licence and callsign, you can contact Ofcom's amateur radio licensing team on 020-7981 3131
How to get a UK licence
If you have no way of proving that you held a UK licence, you may have to start again. The entry licence is Foundation, which you can obtain after undertaking a few short practicals and a basic 26-question multiple choice test – just easier than the old RAE days. It gives you 10 watts on most bands, including HF, with no requirement to learn Morse. See: Amateur Radio Foundation
What's changed in amateur radio?
You might be interested in checking out our guide: Returning to amateur radio
Other Information
If you hold a valid amateur radio licence in another country, you may be able to operate here in the UK, or to apply for a reciprocal licence – See Ofcom: I hold an overseas licence
Related links