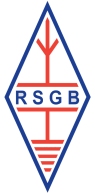 The September issue of the RSGB's magazine RadCom should be with everyone soon, and once again, Essex amateurs get some ink.
Braintree and District ARS gets a mention for their July BBQ and the club's talk on the Clansman radio later in July.
Chelmsford Amateur Radio Society features twice with reports on the club's July meeting where a high altitude balloon was launched by Chris M6EDF. Also a report on the July Skills night, with a photo of Steve M0SHQ tracking a satellite and a summary of the busy Skills get-together.
The Essex Hams impromptu July get-together at Galleywood Common also featured, with a shot of Charlie M0PZT allowing potential Foundation candidate Amber to pass a guest message with the Harlow club.
The Thurrock Acorns event at the Essex Wildlife Trust in Mucking was also featured, where stations transmitted TV, CW, satellite and voice.
Hockley-based retailers Waters & Stanton, and Canvey Island's Innovantennas are featured in the news section after Pete Waters G3OJV made the world's first 4m QSO using the new Elecraft internal 4m transverter.
There also a mention of the recent appointment of Murray G6JYB to the position of Chair of the RSGB Spectrum Forum – Murray is an active member of the CARS training team, which starts its next Foundation course in early September (See: CARS Training)
There are mentions or photos of nearly a dozen Essex Ham members, including: Mark M6RKC, Chris M6EDF, Charlie M0PZT, Ricky M6DII, Pete G0DZB, Jim 2E0RMI, Steve M0SHQ, Graham G7JYD, Mike G4TVP, Trevor M5AKA and Pete M0PSX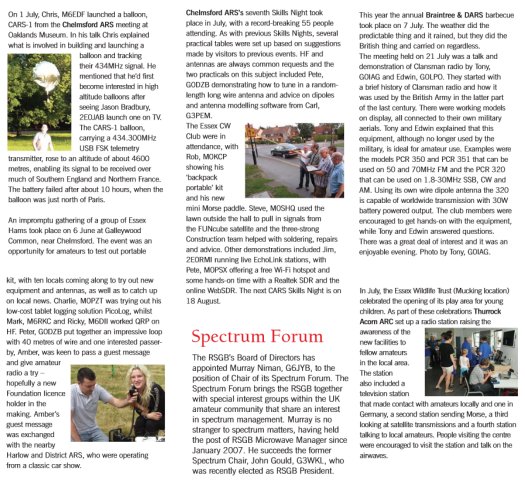 If you want to read the articles in full ahead of RadCom hitting your doormat, take a look in the Essex Ham Members section for a PDF.
Handy Links