The 9th of September 2014 saw the team from the South Essex Amateur Radio Society (SEARS) get together for the monthly club night at the club's new venue in Thundersley.
After some tea and chat, Dave G4UVJ gave a quick update on the status of the planned ISS schools contact and the club's upcoming events calendar, before handing over to the evening's guest speaker…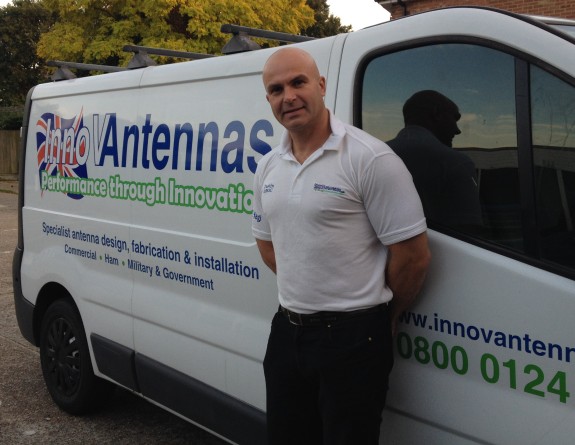 Justin Johnson G0KSC from Canvey Island antenna firm Innovantennas, is a familiar face to many, and proved to be quite a crowd-puller for the evening with an impressive turnout to hear his talk.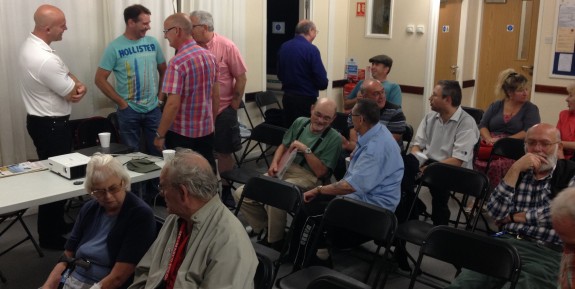 The theme for tonight's talk was "Antenna – Good Practice" and fortunately, Justin's slide count (see below) was a little bit of an over-estimation!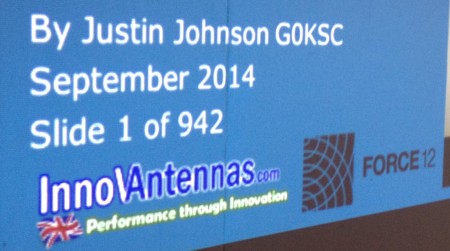 The topics for the talk covered a number of different topics with appeal to people of all different licence levels and knowledge. This is not Justin's first club talk, and the broad material was of interest to everyone, well illustrated and full of handy snippets of practical advice.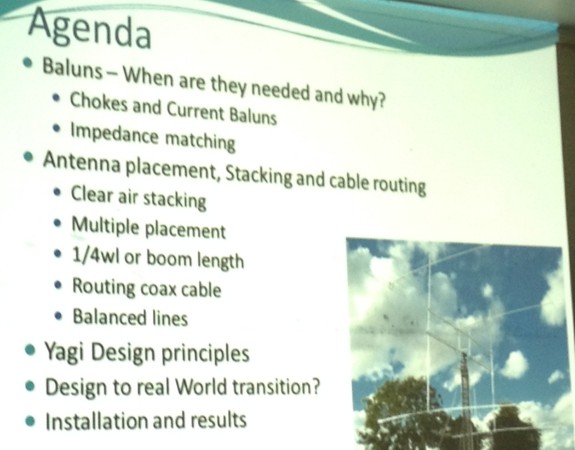 The first part of the talk was on the subject on baluns, offering good advice on ways to stop unbalanced coax feeder from radiating, and the most effective ways to use RF choke & ferrite cores. Next, the subject of antenna stacking was covered with some good practical advice on how to mount antennas so that they don't work against each other. This included discussion of the use of modelling software ahead of construction, and the use of power dividers for 50 ohm outputs.
The final part of the talk covered design principles for beam antennas, with plenty of pictures of Yagi installations, and talk of the complex design requirements for EME (Earth-Moon-Earth) contacts. Justin's company was recently asked to provide an antenna for Nobel prize winner Joe Taylor K1JT – A 432Mhz EME and Radio Astronomy array to be used by the Princeton University, New Jersey. Justin talked through the basic principles of modelling and constructing this impressive array.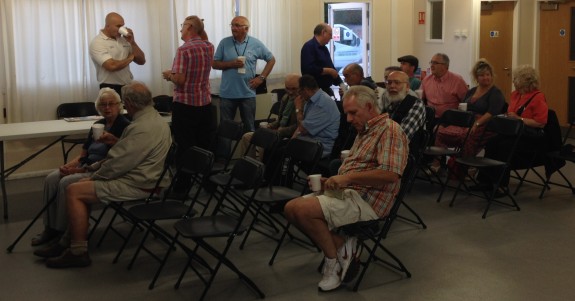 An excellent talk, hopefully with something for everyone, followed by lots of socialising, catching-up, and of course tea.
SEARS next meet on Tuesday the 14th of October for a Station On The Air / Show and Tell evening. All are welcome – More on SEARS
Related Links