This is a filtered view of our main Essex Amateur Radio Events Calendar, showing upcoming club nights in Essex:

Loading…
Is your club's event not showing? Let us know, or ask your club to pass on details to us.
Note that we do not normally list club nights with specific topic, and we don't normally list members-only events
Subscribe to our Events Feed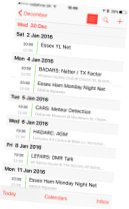 You can subscribe to our Essex amateur radio events calendar using our iCal feed (handy for your smartphone, tablet or Microsoft Outlook). You can also add the calendar to your Google account. The link is here:
Alternatively, you can subscribe to our news and events feed using an RSS reader (Essex Ham RSS Feed), or by following us on Twitter
DISCLAIMER:
The Essex Ham website collates information on local activities based on information from local club websites, as well as submissions from clubs and site visitors. This list has been prepared in good faith – no guarantees are made regarding the accuracy of information here. You are advised to check with the club or events organiser prior to traveling to an event listed here.
Regular Events
Want to learn Morse code? Morse training classes run in Danbury throughout the year on Thursdays: CW Training in Essex
Related Links