The August 2014 RadCom contains an interesting editorial from the RSGB's Chairman, Graham Murchie G4FSG. It sees a return to the subject of "How do we attract more young people into the hobby". The RSGB is suggesting action in three areas to try to attract younger people to take up amateur radio… how do you feel about the following?
1. Construction for Foundation
It's not until Intermediate that amateurs can design and build transceivers. Would an NoV to allow Foundation licence holders to do some limited design and construction, re-introducing the thrill of making something, not just using "black boxes"?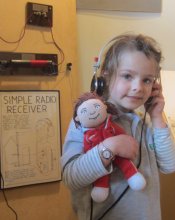 2. Junior Licence
The number of under 25s sitting Foundation has halved in the last decade. Would a "Junior" licence (low power 2m/70cm only) give youngsters the chance to try the hobby with a £30 handheld before diving into Foundation?
3. Better Demonstrations
Should we change the way we show the hobby to the public? What would capture the hearts and minds of today's smartphone generation? The RSGB is after ideas.
Our Thoughts
This is a subject that's been discussed on these pages before, and on our Monday Night Net. In a piece written for us 'Youngster Awareness' by Rob M0KCP some months back, Rob summed up the problem thus:
"We have a young generation that are unlikely to be overly excited about radio communication. They already have that by phone, internet etc. And with 'face time' giving video calling, a crackly conversation with a random person is unlikely to have widespread appeal. BUT… What remains is the technical hobby, the opportunity for experimentation, the chance to help others, radio sport and the global community of amateurs what we work with. Unless we see another 80s style CB craze, our hobby will always appeal to this limited community of young techies, engineers and experimenters."
So, let's look at the RSGB's proposals in more detail:
1. Construction for Foundation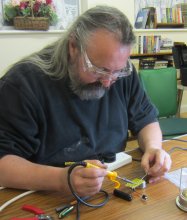 I've never heard of anyone saying "I'd love to get into amateur radio, but I won't, as I can't build my own transmitter from day one". As I understand it, an M6 is allowed to do all sorts of construction projects and kits, including building receivers, and compliant transceiver kits – That does give them quite a lot of scope!
Although I have no objection to construction being allowed (NoV or otherwise) at Foundation level, I can't see that it would have any impact on uptake in the hobby. It would be great to bring in construction earlier, and clubs could help through construction events or hands-on training sessions for those keen to build something – that may help licence progression and the spirit of experimentation, but I doubt it'd get new people into the hobby.
2. Junior licence
In a few emails I've been exchanging on this subject, "Junior" isn't going to work as a name, but could the concept?
If it's implemented well, this could be a good way of getting new and younger people into the hobby. I believe that if this is to be taken seriously, the key is getting the requirements and the limitations right – enough access to get people interested, without doing away with the need for a more formal introduction such as the current Foundation courses.
Although many see Foundation as pretty basic, could there be scope for a 'Foundation-Lite'? Stripping out electrical circuits, formulas, transmitter/receiver block diagrams, HF propagation and the CW practical could halve the complexity of Foundation, without removing the key Operating Procedures / Licensing Rules material. Controversial, I know, but if done right, could this encourage youngsters to give it a go?
4. Demonstrating amateur radio
This is something that, in general, amateurs are very bad at. Operating at locations without much public footfall and/or in a way that doesn't encourage people to ask questions does us no favours.
Two of the Essex Ham team recently held a "what is amateur radio" event at a village fete in Chelmsford – We weren't sitting there operating SSB or CW…  Instead we were talking to the public, and letting them see and hear things. Done right and at good locations, could that kind of approach do a better job of raising the profile of the hobby than a headphones-on, rack-em-up museum Special Event Station? There's a need for both types of event, of course, but do we focus too much on setting up stations to collect a log full of QSOs to the detriment of public awareness?
At an event in Galleywood Common recently, we had a young lady interested in what we were up to. Rather than suggesting she watched quietly, we got her onto a mic to send a guest message to a Special Event Station in Harlow. She got her first proper taste of amateur radio and will hopefully be on the next Foundation.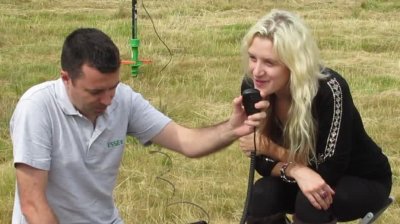 Clubs and groups need to look at where the people are, and how to get the hobby in front of them – fetes, libraries, family fun days. When we're there, putting on a station and racking up QSOs is not the right thing to be demonstrating – Interactive or visual is what it's all about.
In Summary
'Demonstration' and 'awareness' are the answers as far as I'm concerned… whether that's in the public eye, or using social media, apps or other online activities – we need to let more people see what it's all about, and make it easy for them to find out more.
With many of today's youngsters glued to their smartphones and tablets, we've recently released a 2 minute "what is amateur radio" video to compliment our 4 and 6 minute versions (Thanks to Murray G6JYB for suggesting that 4 minutes may be too much for today's short attention span). Our introduction videos are up on YouTube, Facebook, Twitter, Vimeo and Dailymotion – hopefully where the kids are. We'd love to see this shared – so please forward the link http://youtu.be/6UFP158SJbY
So, what are your thoughts on the RSGB's proposals for attracting 'da yoof'? Comment in the Essex Ham forum, or add a comment below…
Pete M0PSX