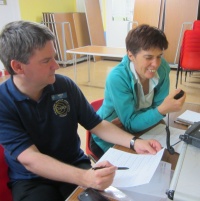 Calling all potential radio amateurs – A reminder that two clubs in Essex are offering Foundation training courses in January – one on weekday evenings, and one over the weekend.
Interested in getting your Foundation licence in 2014? Licensed, but got a friend or partner interested in becoming a ham? Now's your chance.
We understand that both course have spaces available, so get in touch to enroll now. Training is a fun and friendly affair, with a mix of presentations and practical exercises. Here are the details of the two Essex courses that kick off in January 2014:
Chelmsford Amateur Radio Society
CARS will be starting its training course on the 9th of January 2014, and there are still spaces. This marks the 29th course that CARS has operated, and it's one of the most successful in the area. The course runs on a Thursday evening from 7pm and lasts 6 weeks, at the Danbury Village Hall, close to Chelmsford.
If you're interested in booking a place, or finding out more, give Clive Ward, the training coordinator a call on 01245-224577 – More details here: Training with CARS
Loughton & Epping Forest ARS
LEFARS offers a weekend course running over the weekend of the 25th and 26th of January at their training location in Epping (near Romford). This upcoming training weekend will be the 27th held by LEFARS.
More details can be found on the LEFARS website
Foundation Training
If you're looking for a short overview of what's involved on an amateur radio training course, take a look at our recently-updated short video:
Skills Workshops
A reminder that the new Skills Workshops start in January in Danbury – ideal for those at all licence-levels to try something new, ask questions and share knowledge. See www.hamskills.co.uk/cars
Got a question about amateur radio courses in Essex? Get in touch or add a comment below
Related Posts: