In July and August 2013, the callsign G100RSGB arrived in Essex, and if you helped to operate with this call, then the RSGB's offering a certificate as a "thanks".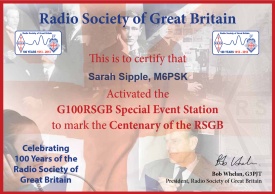 The callsign has spent the last 12 months touring the UK as part of the RSGB's Centenary celebrations, and during the summer, was in Region 12. The callsign was assigned to seven clubs in Essex during its month in the region:
Braintree ARS,
Chelmsford ARS,
Colchester Radio Amateurs,
Essex CW Club,
Loughton & Epping Forest ARS,
South Essex ARS
Thames ARG
As a "thank you" to amateurs who activated the callsign, the RSGB is offering its members a free commemorative certificate. This is delivered as a PDF file for download direct from the RSGB site.
If you were one of the many operators calling out with G100RSGB, and you're a member of the RSGB, fill in your details online to download your certificate from the following link: Order Your G100RSGB Commemorative Certificate – You'll need your RSGB username and password to get to this page.
The RSGB hopes this certificate will serve as a pleasant reminder of the time that operators across the UK spent operating G100RSGB, and we'd encourage everyone who picked up a mic to call CQ with the callsign to download your certificate as a keepsake.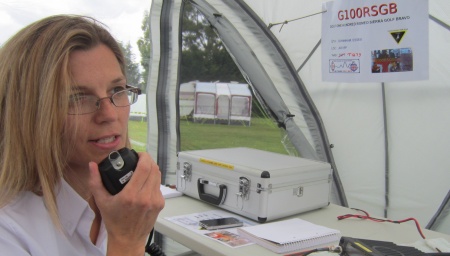 Did you operate with G100RSGB in July or August? Share your experiences as a comment below.
Related content