The coming Monday, the 19th of January, is the first CARS Skills Night of 2015 – If you're free, please come along for the usual mix of demonstrations, activities, tea and chat.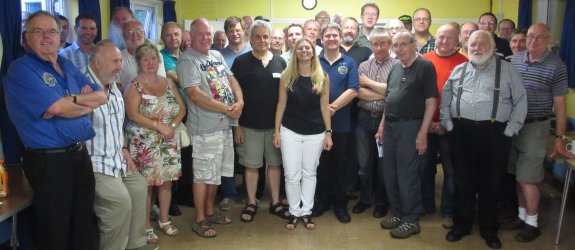 If you've attended one of the get-togethers before, you'll know that the team aims to bring you a good mix of demonstrations, an opportunity to ask questions, and plenty of time to chat and swap ideas.
Skills Night Activities
Here's some of what is planned for the January 2015 meet-up:
Test Equipment for Beginners: Chris M6EDF, who many know from his high altitude balloon launches, will be bringing along various bits of electronic test equipment (scopes, RF power meters, power supplies, etc)
Working 4m: Selim M0XTA will be bringing along a live 4 metre station and will be on hand to discuss how to get started on this band
Radio Programming: Charlie M0PZT will bring his kit to allow programming of repeaters for most handhelds (Baofeng/Yaesu especially) and FT-817 plus 857/897 (bring your DC cable). He will also have a couple of Arduino boards running: Morse Keyer, CW Beacon, KISS TNC for APRS, and tips on coding in C++
Antenna Advice: Help and advice on HF, antenna construction and design, ATUs, etc from Carl G3PEM. For those who missed Carl's excellent talk for CARS this month, Carl can also offer advice on contests and awards
CW – Rob M0KCP and other members of the Essex CW Club will be demonstrating aspects of Morse
Callsign Badges – Back again by popular demand – callsign badges while-you-wait courtesy of Jim 2E0JTW
Onion Corner: Peter G0DZB will be bringing something along – not sure what, but it's bound to be interesting!
Windows Tablet – Pete M0PSX will bring along the new low-price Windows tablet. discussed on Essex Ham recently
Quiz: Test your amateur radio knowledge, just for fun
Plus representatives from CARS, Essex Repeater Group, Essex CW Club and Essex Ham to help with questions
The list is subject to change, and availability, so no promises!
Skills Night Details:
Location: Danbury Village Hall, 2 Main Road, Danbury, Chelmsford CM3 4NQ
Time: Drop in any time between 7pm and 9pm
Price: There's no charge to attend the Skills Night
Membership: No need to be a member of CARS or any other club to attend
Refreshments provided (optional donation appreciated)
You can find a map and pictures of the hall here: http://www.hamskills.co.uk/cars/venue
CARS Skills Night Oct 2014 Video
The event is open to all regardless of licence level – If you know someone interested in coming along – please pass on the details.
We hope to see you there!
Related Links