Wow. Another very busy Skills Night at the Village Hall in Danbury this evening – A total of 72 people signed in, comfortably beating all previous records.
Thanks to those who made the trip from far and wide – including a group from our friends from the MARTS club in Kent, and two visitors making the trip from Ipswich after seeing the online promotion. Also great to see a good turnout of Foundation and Intermediates – We counted 18 of you, as well as 8 guests (many looking to join the hobby on one of the county's upcoming Foundation courses).
Here's a quick summary of the demos and activities:
Test Equipment for Beginners
Chris M6EDF took a break from high altitude ballooning to bring along a selection of test equipment, including scopes, RF power meters, power supplies and all sorts of gadgets – handy for anyone working on construction projects. Lots of interest at this busy table.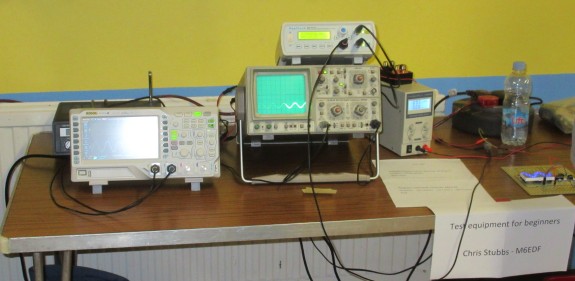 Tuning Whips and Dipoles
Thanks to Peter G0DZB (whose Christmas jumper features in the next RadCom!) for bringing along an array of kit and antennas, plus his trusty Elecraft – Another very popular corner again.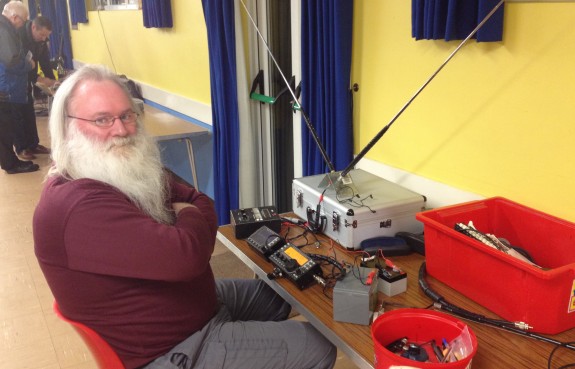 Radio Programming & Arduinos
Some serious multi-tasking from Charlie M0PZT this month – not only offering to program repeaters for a huge range of devices, using is new multi-connector cable, but also demoing Arduinos – including a Morse Keyer program and a demo of repeater logic, which nicely demonstrates simple input/output and timing routines.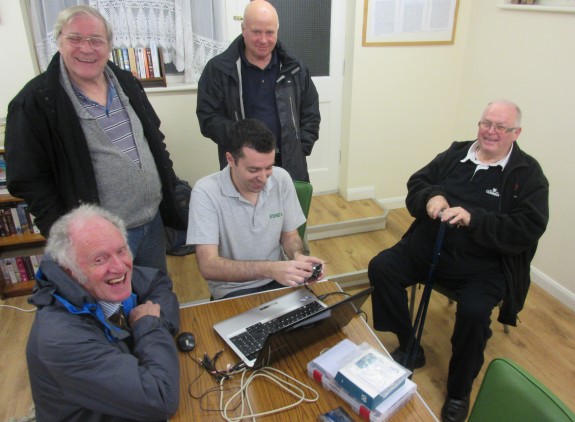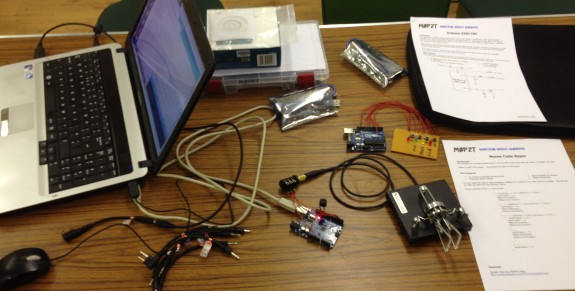 Working 4 metres
Thanks to Selim for traveling over from the West of Essex to put on a 4m metre station. Sadly, S9 of noise on 4 metres, meaning that we couldn't hear much on 70MHz, but people could hear Selim, with reports coming in from quite a distance – apparently we had a pile-up, but couldn't make out anything through the noise. We'll look to have a re-think and try this one again at a future Skills Night.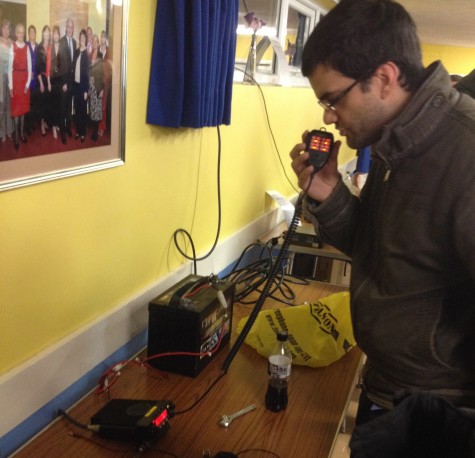 HF and Awards
Getting started on HF, especially with limited garden space, is always a minefield, but Carl G3PEM (plus trusty whiteboard) was on hand to help with questions. He also was able to offer help on contests and awards, following on fro his recent talk at CARS.
Morse & More
Thanks to Rob M0KCP and others from the Essex CW Club for the night's demo. A station receiving CW on 40, plus a selection of keys for people to have a play with.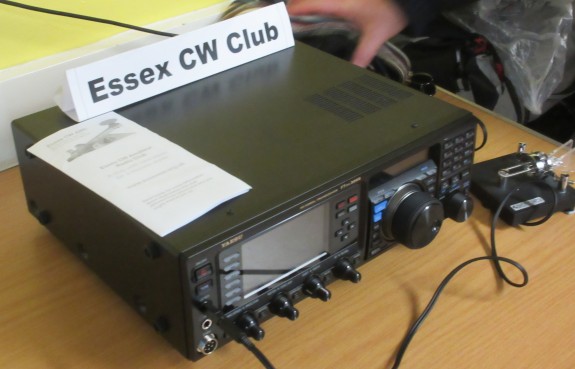 Badges
You've have thought everyone now had a callsign badge, but Jim 2E0JTW's machine was humming away, showing there's still demand – We gather Jim may be at the Canvey Rally if you missed him tonight.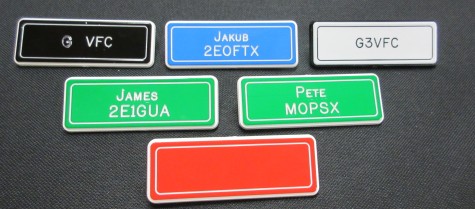 Windows Tablet
Pete M0PSX brought along one of the much-discussed Windows tablets – These are very powerful machines for relatively little money, with the advantage of being able to run full Windows programs (such as Ham Radio Deluxe and SDR#) as opposed to Android and IOS apps. Pete's machine was running SDR# using the £10 USB dongle and a home-made Slim Jim antenna – listening to local station Heart FM… unaware that an engineer from the radio station was in the building (thanks to Nathan for doing a better job than our Pete of tuning in the station. Links: Linx Windows Tablets | href="https://www.essexham.co.uk/realtek-sdr-dongle-10-pounds.html">SDR Dongle
Club Announcements
CARS Chairman John G1UZD announced a couple of upcoming CARS club events, including the SOS Radio Weekend (this coming weekend at the Marconi Sailing Club in Steeple), the next CARS club talk (The Northern Lights on the 3rd of February), and the Canvey Rally on the 1st of February.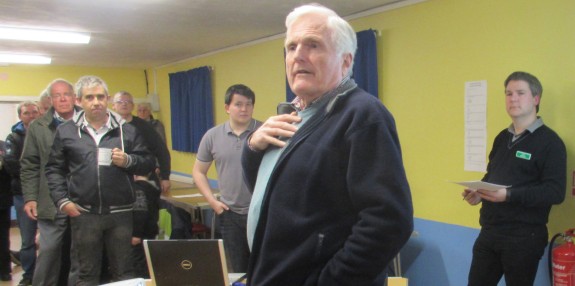 The Quiz
Quiz compere Clive G1EUC ran through the evening's quiz, with a slightly controversial question regarding the use of a handheld microphone whilst driving. Want to know more? See our article Amateur Radio Whilst Driving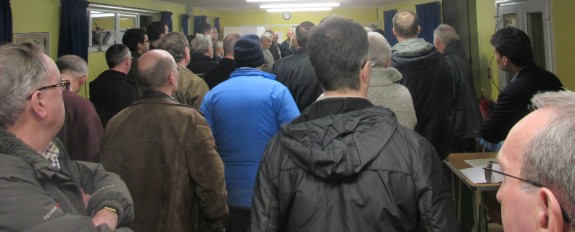 Help & Advice
Well done to James 2E1GUA for manning the CARS table single-handed and allowing CARS members to renew their membership. Great to have several members of the Essex Repeater Group on hand to help with queries too.
Flight of the Drone
Special thanks too to Aydin M6WYZ for returning with his awesome "toy" – the Phantom II drone. Towards the end of the evening, the hall emptied to watch Aydin send his quadcopter on a circuit of Danbury (tracked with GPS and onboard cameras) – an amazing craft, and a superb end to the night.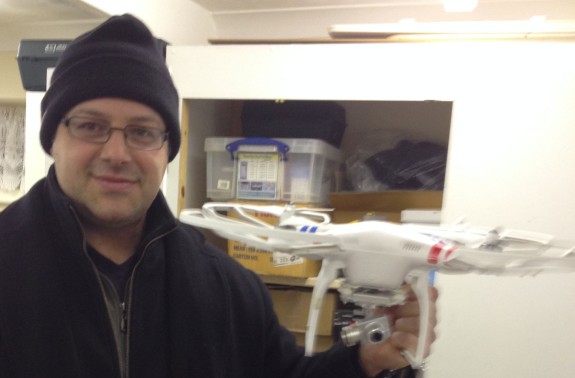 Thanks from Pete
A big thanks to everyone who brought something along to show tonight. Also to those who made the trip to make the night such a busy one – great to see so many of you, and apologies if I didn't manage to catch up with everyone. Special thanks too, to David and Myra – Skills started a year ago, they have attended all of them, and tonight's huge turnout caused an unprecedented cup shortage. Pete M0PSX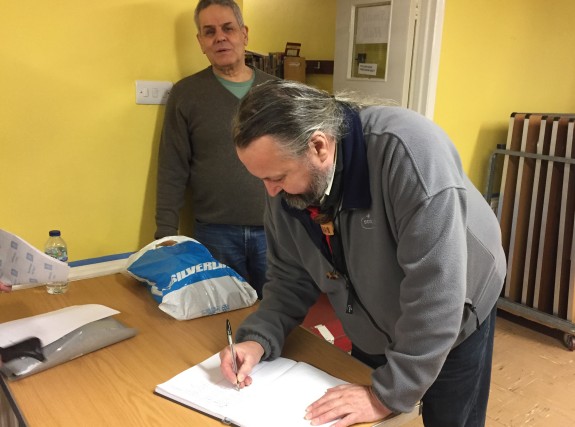 Thanks to everyone for the ongoing support of the Skills Night, and thanks to CARS for hosting the event.