A reminder that this coming Monday, the 18th of August 2014, is the next CARS Skills Night.
From the emails received here, as we're at the height of the holiday season, a lot of people are away or otherwise not able to attend. As a result, we're planning to hold over some of the planned demonstrations until future meetings, so that people don't miss out.
This coming Monday's event is therefore going to be more of a social get-together than a demonstration-packed evening, with the opportunity to chat and ask questions.
If you're looking to get hands-on with something, there will be plenty to do though, and here's what's planned:
Construction workshop: Fast becoming a regular feature. Need help, advice or some soldering practice? Come along
Callsign Badges – Fancy getting your own personalised callsign badge? See you Monday!
SSTV: As requested on the Monday Night Net, the chance to take a look at the world of SSTV with a rolling demo
Antenna Advice – Have a chat to Carl G3PEM about any aspect of antenna modelling, construction and set-up.
Essex Repeater Group – Got a question about GB3DA, GB3ER, GB3DB or GB7ZP? Stop off at the ERG's table
Quiz: Test your amateur radio knowledge, just for fun
Show-and-tell: All are welcome to bring along any items for show-and-tell
As regular attendees know, the Skills get-togethers are a great opportunity to chat, swap ideas, and get hands-on with something new – All are welcome, regardless of club affiliation, licence and experience levels, and the evenings are generally a good mix of hands-on demonstrations, show-and-tell, and practicals. Tea, coffee and biscuits will be available throughout the evening for which a small optional donation towards hall hire would be appreciated.
Skills Night Video
Not sure what to expect? See our video of our May 2014 Skills Night:
Location & Map
Venue: Danbury Village Hall, 2 Main Road, Danbury, Chelmsford Essex CM3 4NQ – 7pm to 9pm.
CARS Skills Night In The Press
The July 2014 Skills Night got a mention in RadCom this month: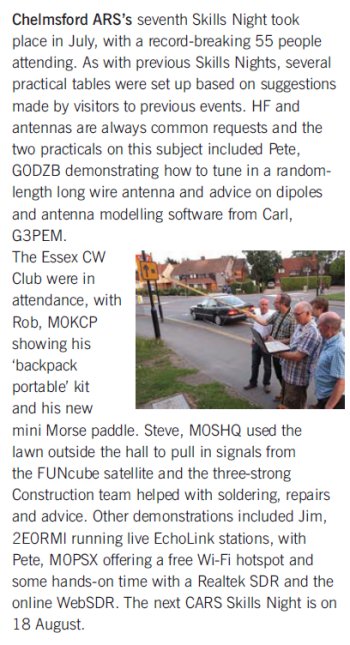 Looking forward to seeing you on Monday for a fun Skills Night
More information