This short post is to draw your attention to some excellent videos recorded locally by Essex Ham Lucy M6ECG.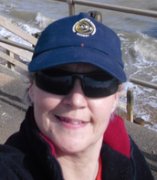 Lucy passed her Foundation with Chelmsford ARS in October 2012. She's a member of Essex Ham and pops up on our Monday Night Net now and again – however you're most likely to find her out-and-about working /P on HF.
When she's out portable, she records video clips of what she's up to, and releases them on YouTube – the videos aren't getting a lot of hits, possibly because they're tucked away in a corner on YouTube, so we'd thought we'd shine some Essex Ham light on her latest video.
July 2014 RaDAR Contest
If you're not familiar with this contest, the Rapid Deployment Amateur Radio Contest is quite a challenging one – You have to pitch up somewhere portable, make 5 contacts, walk a kilometer and make another 5… aiming to make as many contacts in the contest's four hour window.
The latest video from Lucy shows her portable setup at Hamford Water, near Walton-on-the-Naze. She's using a quarter-wave elevated groundplane antenna, protected by ribbon ribbon from a member of Essex RAYNET. She's also experimenting with an MP1 antenna on 40m. Lucy has all the /P creature comforts, courtesy of her parasol trolley.
You can find all of Lucy's videos on her
YouTube channel
, where you can subscribe for updates. The New Years Day 2014 video is worth a watch too – a very blowy day to be /P!
Good DX Lucy!
Handy Links