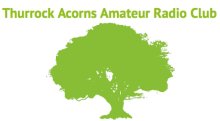 Announcing details of a new amateur radio club for Essex, the Thurrock Acorns Amateur Radio Club.
This new club has been formed in the Grays area, and at the moment is in the early stages of setting up. The club is appealing for anyone interested in becoming a member or helping out, to get in touch via their website's Contact form.
Once the club has established, it plans to offer the following:
Monthly meetings in the Grays area
Training (all three licence levels are being considered)
Events, including JOTA, RAYNET, data modes, CW, satellites and moonbounce
The group's founders are Nick G4HCK, Gordon 2E0ELI and Len M1DPE, and the club is hoping to start local meetings early in 2014, but you can already join in with the club's activities on the Thurrock Acorns weekly net. This takes place simplex on 2 metres on Thursday nights from 7.30pm to 8pm (Go to 145.500MHz at 7:30pm to find out which frequency).
Here at Essex Ham, we wish the new club much success, and hope to be reporting on your events and club meetings very soon.
Find out more, and register your interest in the club at www.taarc.co.uk