Following on from the successful five day radio and camping event trip in May, the Thames Amateur Radio Group will be holding another 5 day event in August.
Billed as a "Radio and Fishing Rally", those interested in amateur radio, camping and/or fishing have the opportunity to come along, enjoy some excellent RF working conditions and take a break.
If you're looking to pitch up a tent or a caravan, you'll need to book in advance, and the event kicks off from midday on Tuesday the 6th of August.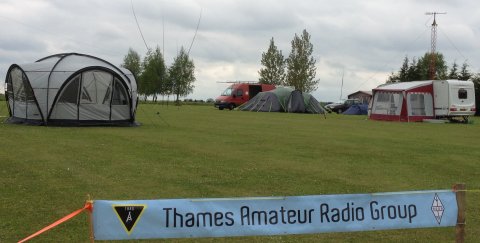 For the first three days, those attending will be able to use their own callsigns and kit to try to work the world and fill up their logbooks from the venue, Crowsheath Fisheries in Downham, near Billericay. On the Friday and Saturday, the site will be the home of a special and unique callsign.
RSGB Centenary
On Friday the 9th and Saturday the 10th of August, the RSGB Centenary Callsign passes from the South Essex Amateur Radio Society's activities on Canvey Island, to the Thames Amateur Radio Group. This presents Essex amateurs with the option to work the prestigious callsign G100RSGB, which was in action with the Chelmsford Amateur Radio Society in July. The callsign has been attracting massive pileups on its journey around the regions, and this is a golden opportunity to work the callsign that everyone wants to talk to.
Members and non-members are welcome to come along on the 9th and 10th to see the various stations in operation, although note that there is a small fee (£2) for access to the site.
More details
To get a feel, take a look at Essex Ham's video of Thames ARG's May event at Crowsheath:
For enquiries, or to book camping or fishing, contact the event's organiser, Norman Crampton, M0FZW (Email: [email protected] or call 07899 803714)
Related Links