Essex's newest club, the Thames Amateur Radio Group, was operating on the 29th of September 2012 from Two Tree Island – a small piece of reclaimed land off Leigh-on-Sea.
Today's field event isn't the first time that Two Tree Island has been used for mobile operations, and is an excellent location of amateur radio activities, due to its proximity to the salty water of the Thames, plus its distance from any of the usual sources of man-made interference.
The group was primarily operating on the 20 metre band, and operators were making good use of Twitter to announce the operating frequencies. DX conditions weren't ideal, but TARG was able to make contact with the US, Mauritius, plus the usual European countries. Two operators were also able to have a good conversion with a station operating AM – Aeronautical Mobile, from the cockpit of a 737 flying from Greece to Amsterdam. The QSO took place over Zagreb from the plane's cruising altitude of 38,000 feet.
In attendance at the Thames Amateur Radio Group Field Day today were Mike 2E0NGY, Tom 2E0TNC and Pete M0PSX. Guest operators were Paul M0XLD from Southend and James 2E1GUA (cycling over 2 hours from Chelmsford). Over 90 contacts were logged on the club's new callsign of GX0TRG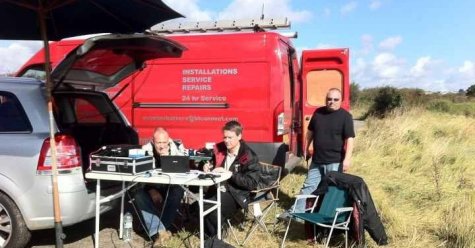 Find our more about TARG on our Thames ARG Club Profile