In recent months, a number of local amateur radio operators have been activating Two Tree Island in the south of Essex. Here, you'll find information on Two Tree Island, and what to expect:
What is Two Tree Island
It's a small island that was reclaimed from the Thames in the 18th century. It's accessible from Leigh-on-Sea via a road that runs behind Leigh-on-Sea railway station (scroll down for a map). The island is popular with bird watchers, dog walkers and model aircraft fliers. On the road to the island, there's a skating part and a golfing range, and the island has boat launching / storage facilities.
The island gets its name from the two large elm trees that were prominent on the island, until they were toppled during storms in the 1960s.
Radio on Two Tree Island
It's a great site for amateur radio due to the very low noise floor, the distance from anything that generates QRM, and the RF takeoff using salt water of the Thames as a groundplane. It's also off the beaten track.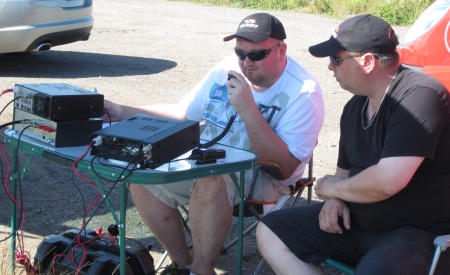 Fields Days on Two Tree Island
The island has been used by lots of amateur radio operators over the years, and is a regular amateur radio operating location for the Canvey-based Thames ARG.
Typically, their team arrives early in the morning (which seems to work best for contacts with Australia and New Zealand), set up an array of antennas, fire up the transmitters and stay all day working different parts of the world on HF as the bands and conditions change. Those coming along to field days are given the option to bring along their own equipment to try out the great location, or to work the equipment provided by members using their club callsign of GX0TRG.
If we discover any planned events at Two Tree Island, we'll try to let you know here on Essex Ham, so please sign up to our mailing list, follow us on Twitter, or check out our Essex Amateur Radio Events Calendar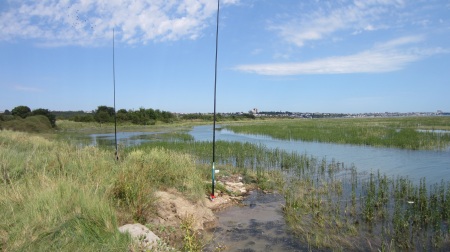 What you should know
There is no public loo on Two Tree Island. Nor is there a phone box. There's also no accessible mains power. Dogs are allowed on the island and there is plenty of free car parking. There's also a good mobile phone signal.
Two Tree Island Map
Here is a scrollable map showing the location of Thames ARG's preferred field ops on Two Tree Island:
View Larger Map
Two Tree Island Photo Gallery
If you're heading down to Two Tree Island – good DX, and please let us know how you got on, using the comments section below.
Related Links