Friday the 3rd of August 2013 saw another meeting of the Thames ARG on Canvey Island.
The evening started with a few announcements from the club's team, including an update on the upcoming 5 day camping trip, which kicks off at midday next Tuesday. The club will be operating G100RSGB on the 9th and 10th of August 2013 from Crowsheath Fisheries, near Billericay.
Photography (Laura M3LIQ)
Laura M3LIQ is the daughter of RSGB Regional Manager Mark M0IEO, and a keen photographer. With several years of experience, Laura is studying photography at BA degree-level, and clearly knows a thing or too.
In Laura's talk, she covered lighting, composition (and how to watch for colour clashing), and reminded us that taking a posed photo is not as good as an unexpected or "lucky" shot. She also encouraged camera users to be experimental – try different modes and settings, and see what photos result. Laura also touched on the use of Photoshop to manipulate images, remove red-eye and highlight colours, as well as some creative development techniques an pinholes cameras.
Full marks to David G3SVI for pointing out that Laura's handiwork created the now famous "CARS Mug In Space" picture, with a little help from Photoshop.
TARG Raffle
This month's raffle, unsurprisingly, had a photographic theme, with the top prize being a digital photography starter kit – including a camera and photographic paper. Sony camera cases featured in the runners-up prizes. Here's a picture (taken by Essex Ham and not Laura!) of John 2E0ESX with the top prize, plus other winners Lloyd and Bruce.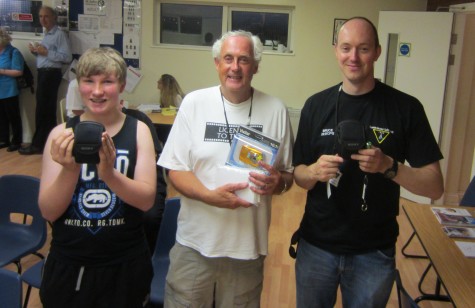 Essex Repeater Group update
Norman M0FZW gave the audience a quick update on the local repeaters, on behalf of the Essex Repeater Group.
He confirmed that GB3DA has now been adjusted (removing the 1750Hz toneburst and making the squelch less sensitive). GB3DB has had problems too, and due to its location is often struck by lightning. He showed a photo of the cable showing the damage caused to the heliax by an air rifle pellet.
Norman also explained that the ERG had decided not to make any comment on the discussion and debate that took place here on Essex Ham about the problems affecting Danbury's 2m repeater GB3DA.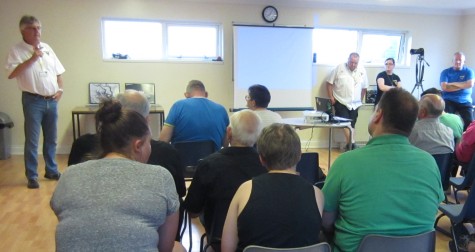 Well done to the Thames Amateur Radio Group for another great evening.
Related links