Thanks to the Thurrock Acorns for sending over the following story:
On Wednesday the 7th of October 2015, Darren Attersley Officer Commanding the 106 (Orsett Hundred) Squadron Royal Air Force Air Cadets and Gary Mayell a member of the Thurrock Acorns Amateur Radio Club (TAARC) both presented themselves at 18.00 hrs at the Air Cadets Grays HQ to take their radio amateur foundation exam.
Darren and Gary had been working with members of TAARC as they progressed through the syllabus. The Foundation exam is the entry level for those who wish to talk and send data over the air and enables people to start to experiment within the electronics/computer world.
The exam chief invigilator was Lieutenant Commander Robert James RNR assisted by Pilot Officer Ryan Jones RAFVR(T). Flt Lt Darren Attersley RAFVR(T) said he was pleased to have passed the exam and now hopes many of the members of his unit will follow his lead and take advantage of the training on offer which will enable them to take the exam in December.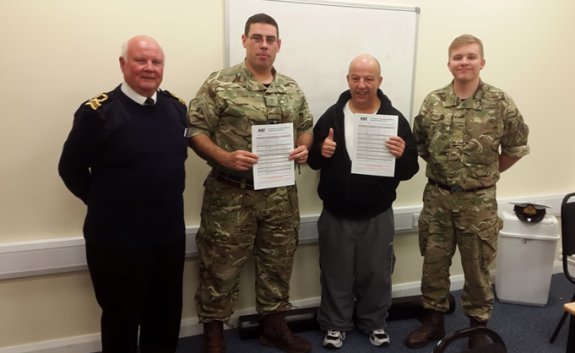 Nicholas Wilkinson chairman of TAARC said he was delighted that both Darren and Gary had passed and looked forward to working with the Air Cadets in the future.
If you want to know more about the Air Cadets, go to the 106 (Orsett Hundred) Squadron site
Well done to both Darren and Gary – and enjoy your amateur radio journey!
Training Air Cadets Online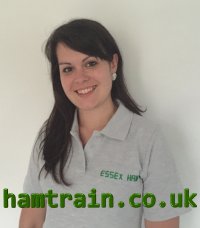 Darren has been studying with the help of Essex Ham's Foundation Online course, which allows home study of the entry-level amateur radio course. Thanks to Darren for sending over the following words in relation to his experiences of Essex Ham's online training:
"Just wanted to say thanks to Essex Ham, I am happy to report I passed my foundation exam last night with a 94% pass mark. I found the site really helpful, the videos are great and really boost the learning process."
Essex Ham started working with the 106 (Orsett Hundred) Squadron Royal Air Force Air Cadets at the start of October, using the online training course to help with cadet training – a customised version of the course is running at the moment, helping the cadets to get ready for their Foundation practicals and exam in December.
Related Links
Involved with a club in Essex? We can help to promote your club's event to the amateur radio community. Send us your events news, and we'll help to promote your event to amateurs from across Essex and beyond. If your club's events aren't being featured, get in touch with Essex Ham, or find out more about how Essex Ham supports local clubs.