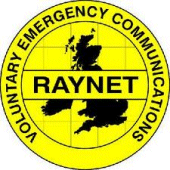 The weekend of the 3rd and 4th of October 2015, was an incredibly busy for the group of volunteers that make up Essex RAYNET. This post has been written by Essex RAYNET member Pete M0PSX, with the intention of highlighting the work of RAYNET.
Saltmarsh 75 is a challenging 75 mile trek around the Essex coastline from Marsh Farm from South Woodham Ferrers to Salcott. Participants are a mix of runners, walkers and relay teams.
From a RAYNET perspective, providing reliable radio comms for the route, plus providing radio operators, is a sizable challenge.
The Infrastructure
To ensure coverage, this is what Essex RAYNET had in place:
Two Controls, one in Maldon Council and a Forward Control in Southminster
Multiple temporary 2m and 70cm in-band and cross-band repeaters
15 radio checkpoints, including two start points and the finish line – most staffed by two RAYNET team members
A plan making use of 6 frequencies on 2m and 70cm
Sweeps to cover the entire 75 mile route, equipped with APRS trackers to allow the last walkers to be located
A roving mobile unit to supply engineering support and ensure everyone gets to where they needed to be
Radio equipment temporarily installed in several council support vehicles to allow organisers to stay in touch and support the marshals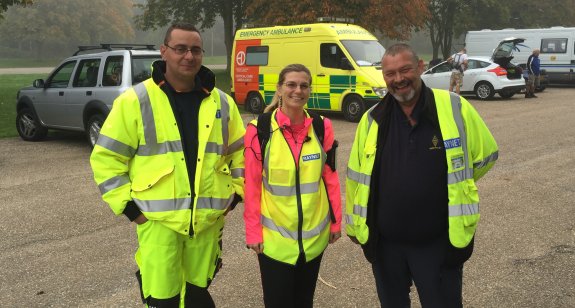 The engineering and planning effort has been substantial, and over 20 team members took part in various roles at the weekend.
Hard at work too, was the team from Rover Rescue, capable of reaching hard-to-access locations, transporting people and being on standby at key locations. Some members of the Rover Rescue team are licensed amateurs, so were able to keep in contact using designated RAYNET frequencies, as well as their own comms.
Also involved in the operation, organisers and staff from Maldon District Council, volunteer marshals and drivers, as well as teams of medics.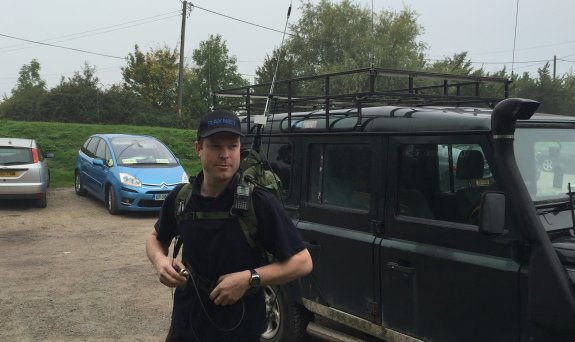 Working on the event
For this busy event, I was involved for much of both days in three different capacities, and here is an overview of my small part the the event.
Checkpoint duties
On Day One, I was deployed to Checkpoint 1 in Fambridge, paired with John M5AJB. It was possible to contact Maldon Control using our in-car radios, but to allow us to be sited next to the marshals, the portable station used for Essex Ham field days was used, allowing 2m access from a slim jim/fishing pole combo. Marshals had to log each participant as they arrived, and a list of non-starters and event retirees had to be communicated between checkpoints and control, to ensure no-one was lost.
Sarah M6PSK, RAYNET's fastest running member, ran the first leg of the event, doing a great job of keeping up with the runners whilst providing comms and carrying the APRS tracker.
Marshals are stood down at each checkpoint by RAYNET once the sweep runner/walker has passed, and paperwork collected for return to the organisers. RAYNET provide lead comms working closely with the marshals and organisers on everything from participant lists, food and drink supplies, people ferrying and even lost property.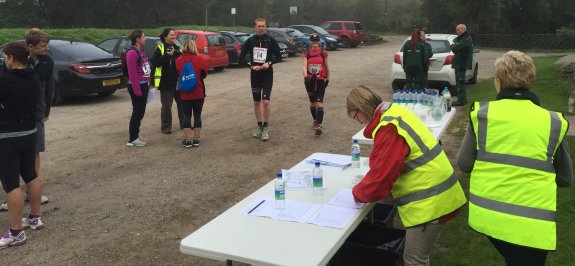 Control
On both days, I was deployed to assist at Control, at the Maldon District Council offices. The room allocated for RAYNET is equipped with a fixed antenna point for RAYNET, and all the resources needed. Control was equipped with two base units – one for organiser comms, and one for RAYNET outstations. For reliable comms, Day One was largely on 2m, and Day Two on 70cm, using two different temporary repeater sites.
Control was usually manned by 3 people. Constant presence was Dave G0DEC, who started early, slept on-site overnight and was at Control until the end.
On Day One, after John M6AJB and I closed Checkpoint 1, we were deployed to Control, alternating shifts on the main radio comms. On Day Two, I arrived at Control, spending several hours on the mic, before heading off for sweep duties.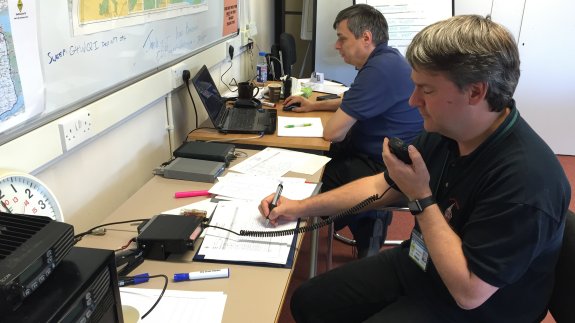 A significant amount of traffic was handled – including keeping 6 checkpoints up-to-date with participant progress. Every message, in-and-out, has to be logged, and message traffic is very different to traditional amateur radio field days and special event stations. Messages are a real mix too – from complex exchange of participant lists, general enquiries, to assigning and standing down volunteers and marshals. Operators aren't just message-takers or loggers, but decision-makers juggling with the big picture of how the event and the players fit together through teamwork.
Sweep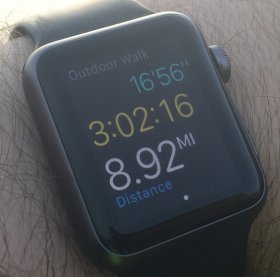 It's the job of the sweep to tail the last walker on the trail, so ensure no-one gets left behind and to carry the APRS beacon that lets control know the sweep's location.
My stint was on Day Two, covering Checkpoint 10 (Goldhanger) to Checkpoint 11 (Tollesbury) – At just over 10 miles, this is the longest leg to sweep, but offered some great views of the River Blackwater and surrounding area. Sweep is a lonely job – keeping a discrete distance behind the last walkers, so I took the opportunity to take some great photos.
Lesson learnt from sweeping last year, is to keep it light – taking only what's needed, but with water, first aid kit, a couple of snack bars, spare radio, the APRS beacon, backpack mast, backup batteries and paperwork, there's still some weight in the backpack. Due to a staggered sweep start, I didn't have the APRS beacon, instead using APRS via a mobile – reliable, but a drain on battery.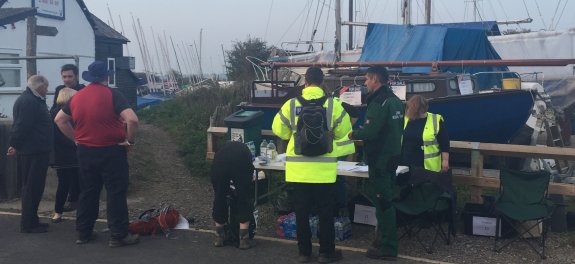 Summary
An excellent event that went very well from a radio perspective, largely due to lots of planning, and lots of people giving freely of their time.
Working a RAYNEt event always gives me a sense of achievement – using radio for something more than a simple "59, 73, QRZ" contact that you spend 15 minutes calling for working HF.
If you think you could enjoy putting your radio skills to good use, or learning more about how to set up reliable comms to help the community – get in touch with Essex RAYNET to find out more…
Pete M0PSX
Saltmarsh 75 Photos
Related links