Thanks to the team at the Thurrock Acorns for submitting the following story:
Thurrock Acorns find out about fox hunting
At this month's meeting of the Thurrock Acorns Amateur Radio Club, the presentation focused on Fox Hunting but with a difference. It was a radio fox hunt. Members of the club were joined by Dave and Frank from the North Kent Radio Society who explained how they went about running a Fox hunting event and some of the issues they had to address. The objective is to find a station (Fox) which is transmitting a signal located five/six miles away. Using directional antennas and a map and compass teams will be expected to listen to the signal take bearings and eventually locate the station.
The picture shows Frank (L) G3WMR and Dave (R) G4YIB showing the difference types of antennas that can be used in a Fox Hunt event.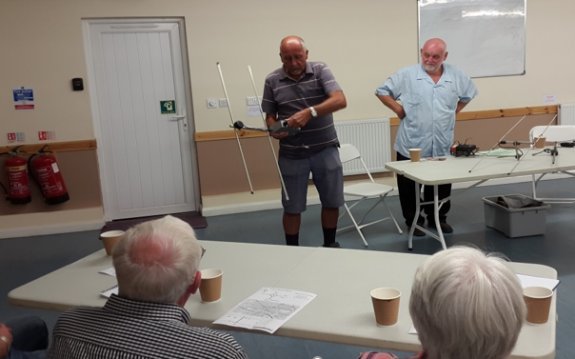 Following on from the presentation the club is now looking at arranging its own Fox Hunt later this year. The first part of the activity will be to look at building directional aerials ready for the event.
Thanks to the team at Thurrock Acorns for submitting this story.
Related Links
Involved with a club in Essex? We can help to promote your club's event to the amateur radio community. Send us your events news, and we'll help to promote your event to amateurs from across Essex and beyond. If your club's events aren't being featured, get in touch with Essex Ham, or find out more about how Essex Ham supports local clubs.