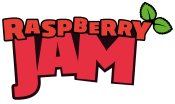 For those not familiar with Raspberry Jam events, they're tech get-togethers that take place around the country as meeting places for those with an interest in Raspberry Pi computing, coding, robotics, engineering, kit building and technology in general. As amateur radio is a technical hobby, there's quite a bit of cross-over, and it makes a lot of sense for amateur radio groups to support such events.
Essex Ham was very pleased to be invited to the August 2016 Southend Raspberry Jam, following our appearance at previous events in Southend, Chelmsford and London. The August event was organised by Southend Tech, and was located at The Hive in Central Southend (the top floor of the old Central Library building on Victoria Avenue. The all-day event was free, and very popular!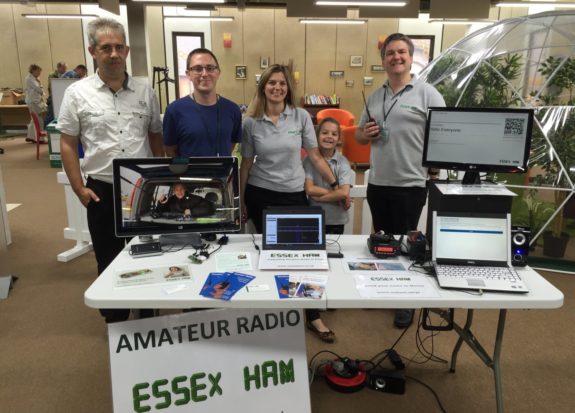 Doors opened to the public at 10am. Nick M0NFE and Pete M0PSX were set up and ready to demonstrate the hobby. Our tried-and-tested setup included the following:
Your Name in Morse – Visitors can type their name, use a QR code to send their name from their smartphone, or log on using an Internet shortcode and send their name. A special greetings message is created, scrolled live on the demo screen and played out at the venue in Morse Code. Great for kids, and an attention-grabber at exhibitions. The code's written by our own Nick M0NFE
Videos – As we were at a Raspberry Pi event, we made use of a £4 Raspberry Pi Zero, a 5V phone booster pack and OpenElec running on Linux to play two videos promoting the hobby – one was Essex Ham's own Amateur Radio Scroller, and the other was the RSGB's 21st Century Hobby video.
VHF/UHF Radio – On the off-chance that someone wanted to try out a contact, a Yaesu 7900, powered from a 12V SLAB, was on standby, and made a handy prop for demonstrating concepts such as tuning, squelch and the radio spectrum
Software Defined Radio – The £10 Realtek SDR dongle was active, showing part of the broadcast radio spectrum and making for some eye-candy
Literature – Leaflets from the RSGB, Essex Ham's own promotional leaflets, business cards and details of local courses offered by nearby clubs were all available throughout the day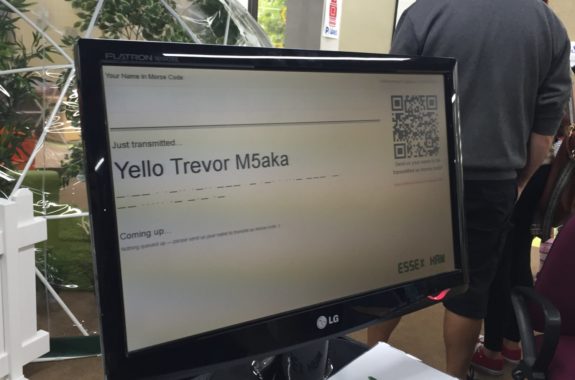 ISS Talk
In one of The Hive's meeting rooms, a series of talks were held throughout the day. A popular topic in the past has been space, with the Sonic Pi Project forming part of Tim Peake's mission to the ISS. Essex Ham was proud to be asked to present the first talk of the day on the subject of amateur radio aboard the space station, and the 10 ARISS schools contacts that took place in 2016. Pete M0PSX introduced the world of amateur radio before showing part of the RSGB's video GB1SS: schools speaking to Tim Peake. Some mention was also made of the Essex interest, with Essex Ham assisting 3 local schools in tuning in to signals from the ISS.
At the end of the session, it was encouraging to get some many questions, varying from frequencies used to listen to space, to how radio amateurs have assisted with emergency comms during disasters and the role of RAYNET today.
Later in the day, Laura M6LHT (a great supporter of Essex Ham), gave a talk on The Internet of Things – you can find more about some of her art and tech projects at lhtrevail.co.uk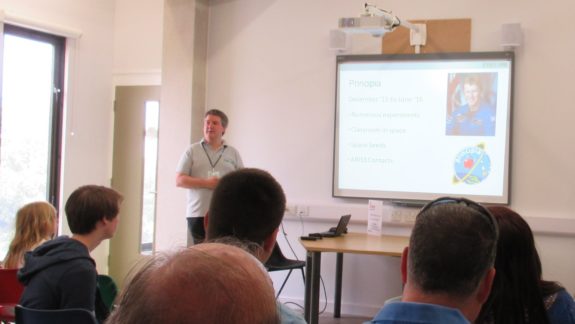 Amateur Radio Interest
As mentioned above, this is not Essex Ham's first appearance at a Raspberry Jam event, but it was probably the busiest and most productive for us. Lots of interest in the hobby, integrating radio and Pi technology, hearing about what's possible with radio, and finding out more about local events. On two separate occasions, Nick and Pete switched to "teaching" mode – with Nick fielding some questions about upper and lower sideband (complete with napkin-style drawings), and Pete walking through the Foundation training slides to explain some of the technical basics and transmitter concepts. Great that so many people were interested in just how radio works, and how they could be a part of it.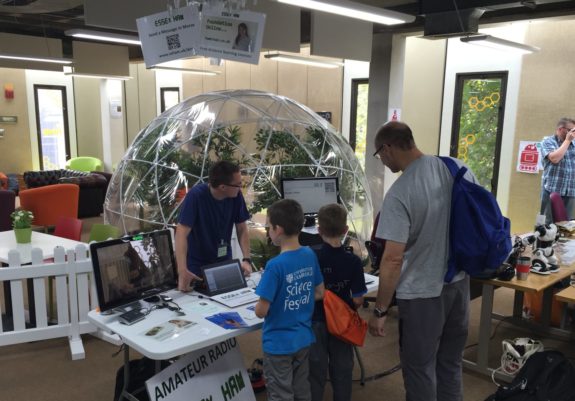 The cherry on the cake, was being asked to help present the raffle – the theory being that us radio hams have loud clear voices. Great to see so many happy winners walk away with Raspberry Pis, books, kits and other prizes.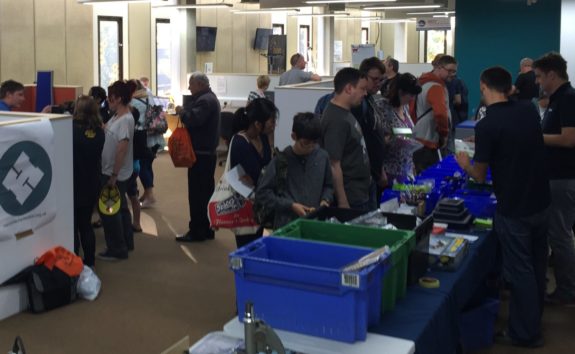 Well done to Andy from Southend Tech for putting on an excellent event. Great to be able to explore The Hive too – a fun place to be, and some great facilities.
Related Links
Event Images