CARS has today announced its plans for a Skills Night this coming Monday, the 16th of October 2017. Here's a copy of the announcement sent out to CARS' mailing list:
Event Details (from CARS):

Monday evening, 7pm Oct 16th 2017, is Essex Skills Night.
Following a break over the summer this is the second of three experimental events
Skills Coordinator Pete M0PSX is prepping this popular event (now in its fourth year), so do get in touch if you have something to offer.The provisional agenda this month includes:-
• Radio-1: Chris G0IPU and Andy G7TKK will have a demo based on the Intermediate Course radio construction project coupled with an amplifier. Foundation licencees looking to upgrade are particularly welcome to come and see whats involved on a key practical aspect
• Radio-2: Peter M0PSX will have a demo based on SDR dongles as well as other EssexHam guides/advice
• Radio-3: A real classic – Murray G6JYB will have the club RFSpace SDR-IQ on display – still one of the few high performance SDRs that can do whole HF bands in high resolution• Getting started or upgrading?: Guidance will be on offer and now is a good time before the new exam syllabus takes effect in a years time. The next CARS exam/retake slot is on Thu Dec-7• Quiz: The quiz master has returned from last months travels, so expect a fresh set of questions – and perhaps another anagram!
All are welcome!
________________________________________
Note: Skills does not happen by itself, so we are open to offers for demos etc from both CARS members and other clubs/amateurs.
What we are looking for…
Show/tell Demos
Hands-on (setting up radios, modes, construction etc)
Other Local clubs giving demos/info
Newer amateurs looking for answers
Getting started info for would-be amateurs
If you want a table for a demo do email us beforehand and Peter M0PSX will fit you in
Skills is a great opportunity to get "hands-on" with aerials, datamodes, construction, our famous Quiz and more. A variety of "show and tell" tables with something for the new and experienced Ham alike.
As always, various members of CARS, Essex RAYNET, Essex Repeater Group, Essex CW Club and Essex Ham will be on hand to help with questions as well as volunteers in the kitchen doing the tea/coffee and nibbles.
For more details, see the Skills Night page on the CARS Website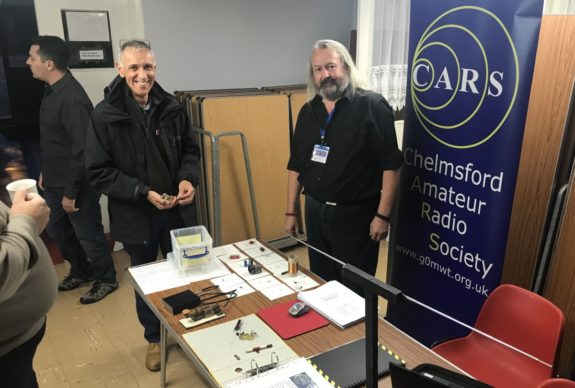 The October 2017 event will not be in the traditional Skills Night format. There have been lengthy discussions with the CARS committee and CARS Training Team about the future of the event, and whether the event should be about Skills Development and Training, or an opportunity to socialise and look at attendee show-and-tell. CARS has elected to try the above format for the next three months, and they'd appreciate your feedback on the event. Contact CARS
Related Links