Wow. Just back from one very busy Skills Night at Danbury, hosted by the CARS Training Team. These in attendance will be pleased to know that tonight was a record-breaker, with an impressive 74 people in attendance, beating the previous best of 73 in January. We thought we were in for a tie, but one Andy C forgot to sign in, making tonight the most well-attended yet.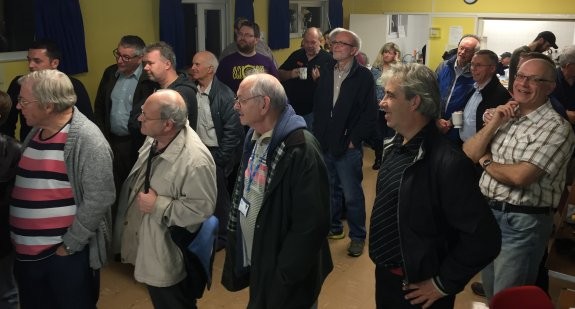 As always, a very wide mix of people – a third of attendees were M6/2E or SWL, from a variety of local (and not-so-local) clubs. We had visitors from Cambridge, Suffolk, Kent and Middlesex, including RSGB Region 12 rep Steve M1ACB and Kent DRM Keith G4JED.
Here's a summary of the attractions that were on offer…
Construction – Once again, a busy night for the CARS construction team of Peter M0PSD and Chris 2E0CUU – more Slim Jims (including a 4m variant for Joel), plus other various project work, including work on Nick 2E0NFE's Pixie.
Programming & Ham Goodies – Once again, Charlie M0PZT handled a steady stream of people looking for help with programming up various handhelds. Also a selection of various Ham Goodies, including digimode interface kits, SDR dongles, ferrites, and a new meter for Yaesu FT-857 and 897s (I couldn't resist bagging one).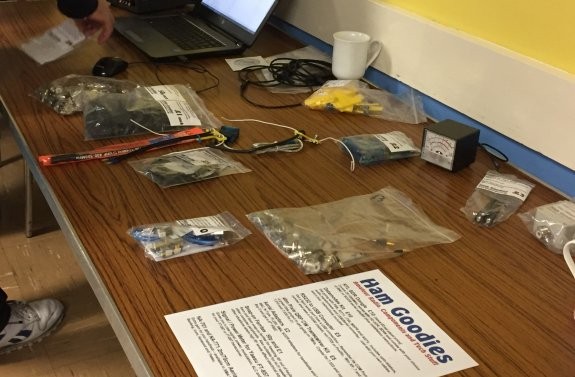 Drone Show-and-Tell – Well done to recently-licensed Dean M6NSX on his first show-and-tell session – demonstrating his impressive six-bladed drone, complete with heads-up display to enable him to see what's the onboard Go Pro camera can see, complete with speed, pitch and roll.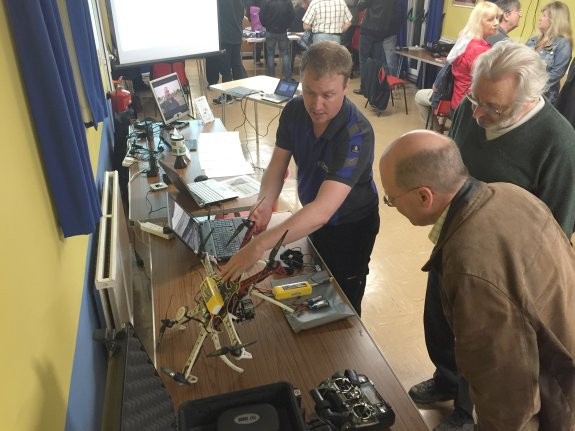 Raspberry Pi – Following on from his successful talk last week at Thurrock Acorns, Peter G0DZB brought along an impressive collection of various Raspberry Pi broards, accessories and hardware, including the new £50 Raspberry Pi 7″ touchscreen. There's always something new on Peter's table, which continues to be one of the most congregated-around!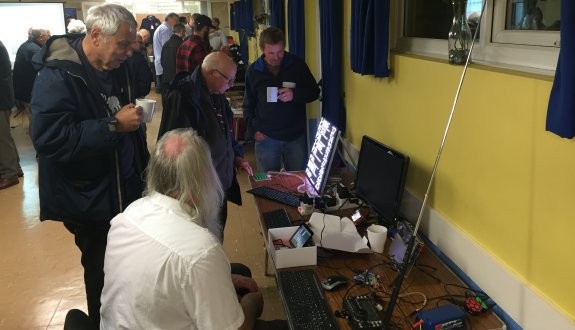 Antennas – Another amazing antenna from Andy G7TKK. Following on from last month's fold-out tetrahedral antenna masterpiece, a discone-like contraption made from an umbrella and springs – plus some antenna-modelling software to prove that it actually works. (If anyone can fill me in on the design, please let me know!)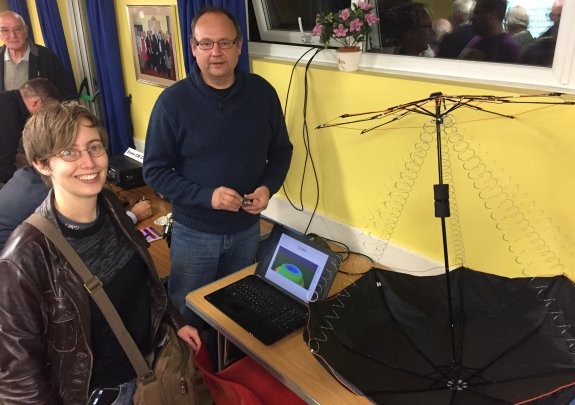 Essex Ham: Getting Started – Another chance to try the new Foundation Online lessons, plus a scrolling video of TX Factor Episode 9, featuring amateur radio activities in Essex. Also, a collection of getting started handouts, a TYT 380 DMR demo, and a cheap Linx 8″ tablet in action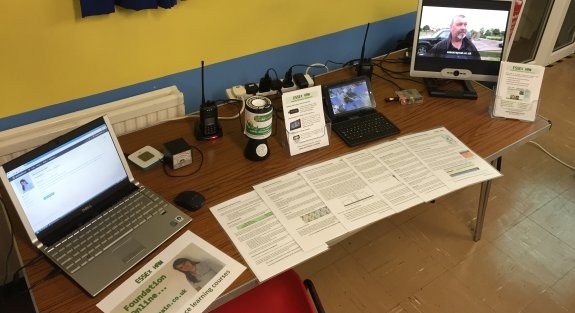 Morse and More – What looked like a busy night for the Essex CW Club, with lots of members in attendance and a live HF CW station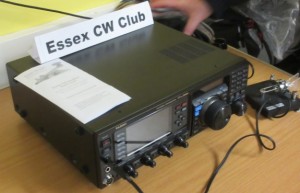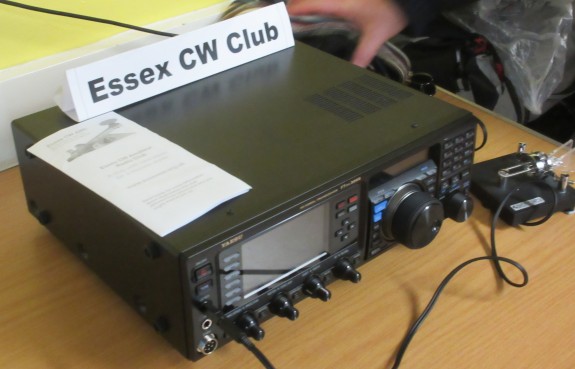 Chelmsford ARS – For the first time since the launch of Skills, CARS had a dedicated society table combining the sale of merchandise with the opportunity to renew CARS membership before the upcoming AGM on the 6th of October. Well done to Chris G0IPU and Colin G0TRM for manning a busy stand.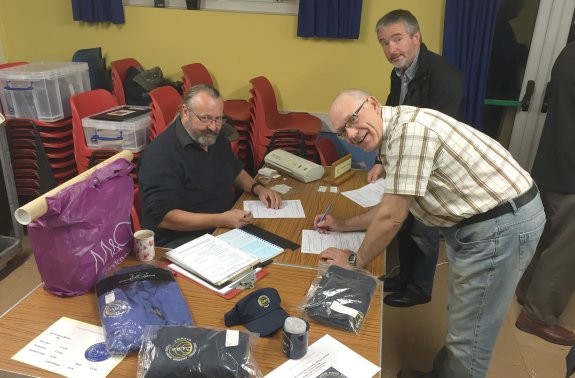 Callsign Badges – Well done to Jim 2E0JTW and Glynis 2E0CUQ for their hard work making callsign badges.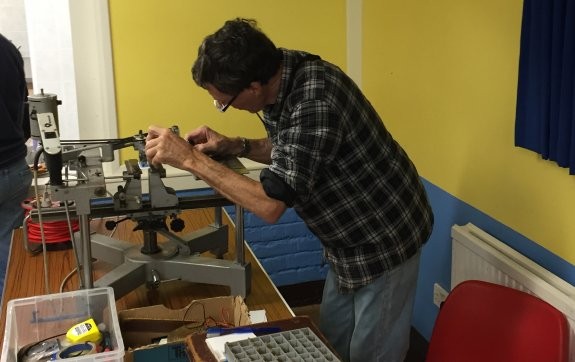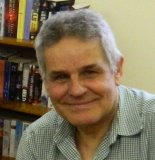 Regulars to the Skills Night will know that Clive Ward G1UEC passed away on the 4th of September 2015.

Clive was probably one of the most well-known amateurs in Essex, and will be sadly missed by so many of us. Clive didn't miss a single Skills Night and was the evening's quizmaster. Clive was a big supporter of Skills Night, and without his help and support in December 2013, Skills would not have happened. Details of Clive's funeral
The Quiz – Thanks to Chris G0IPU for running the evening's quiz. Clive, I'm sure, would have wanted the quiz to continue, and it was good to see the questions stimulate some healthy discussion. Well done to Peter 2E0OFM for solving my anagram in record time. Any guesses?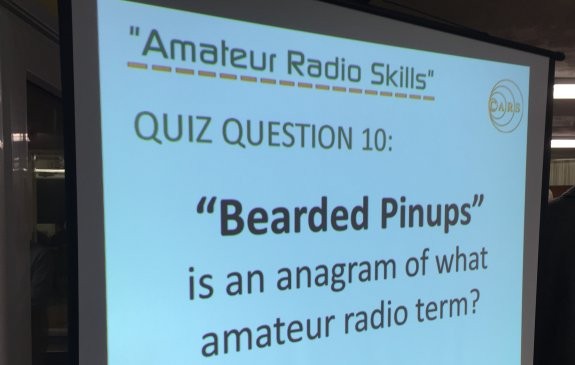 My thanks…
I'd like to express my personal thanks to those who turned up to help make tonight's event a success, and to those who continue to support the Skills Nights at Danbury.
A final thanks to the three unsung heroes of the evening – Ann for her impressive (and tasty) array of cakes, plus to Myra and David for keeping the teas and coffees flowing in the kitchen – not easy with a record-breaking attendance.
Skills Night events are free, and all are welcome regardless of club affiliation and licence level. The next Skills Night takes place on Monday the 19th of October.
Thanks all, and 73,
Pete M0PSX
Photo Gallery
Related Links