Monday the 19th of September 2016 was the 9th Essex Skills Night of the year. With over 30 Skills Nights being held since its launch, 'Skills' continues to see lots of interest, and a mix of people with interests in so many aspects of the hobby. The evening was hosted by the Chelmsford ARS Training Team at the Village Hall in Danbury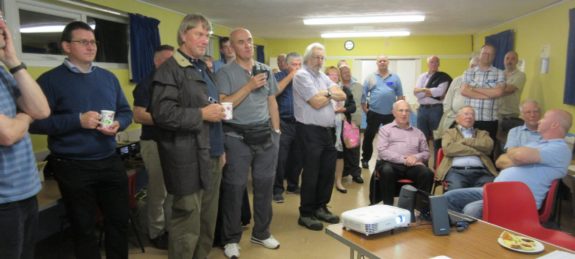 A total of 10 Foundation and Intermediate licence-holders were in attendance, plus six SWLS, some of whom are hoping to become amateurs. A shout out to some of the first-time visitors, including Georg (currently on the CARS Foundation course), two Davids from LEFARS, Terry, John and Kevin travelling from MARTS in Kent, George & Chris who trekked down from Norfolk, and Terence from Dagenham, a former Foundation Online participant. Thanks also to Paul M0CNL from Clacton, kindly tweeted the following after the event:
"Thanks to @EssexHam for a great evening and making me welcome. My head feels like it's going to explode with all the info I tried to take in"
(…in a good way we hope, Paul!)
The evening consisted of the following demos and activities
D-Star Hotspot
Thanks to Steve M0SHQ for bringing along his new Blue DV personal hotspot. The allows connectivity from a handheld over Bluetooth to an existing Wi-Fi or 4G connection. The unit was powered from a phone battery pack, offering a truly portable D-Star connection over RF without the need for a repeater. The BlueDV can also be used for DMR.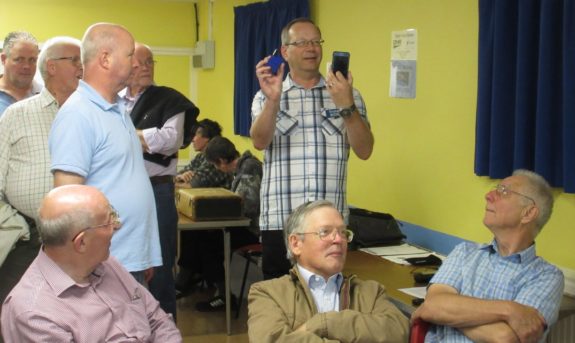 Radio Direction Finding
Ahead of an upcoming DF event in the Colchester area on the 2nd October, Roy G4JAC brought along a range of kit connected with DFing, including transmitters, DF receivers and triffids. If you're new to this outdoor aspect of the hobby, please get along to the upcoming event and give it a try. A team of Essex Hams attended the 2014 Danbury DF event, and it was lots of fun . More on DFing, future events, and how to contact Roy can be found here: www.forjac.co.uk/df/multitx/multiexp.html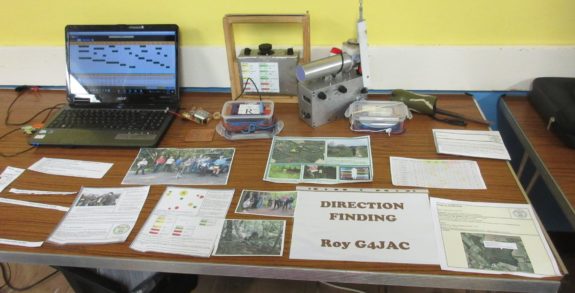 Spectrum Analyser
Mike G4NVT was back with his impressive analyser and test kit, helping out with VSWR testing, measuring frequency, handheld tests and checking for harmonics. Lots of interest in putting the analyser through its paces on this popular table.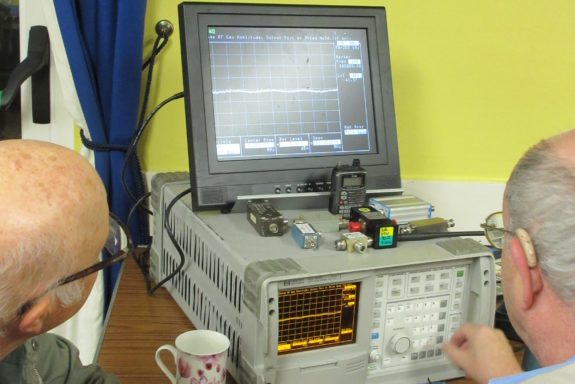 Construction
Despite comments from Chris G0IPU that his iron wasn't hot enough, leads were made, radio testing was completed, and chat was had. Melvyn 2E0DNS was also on hand with testing advice, supporting CARS construction.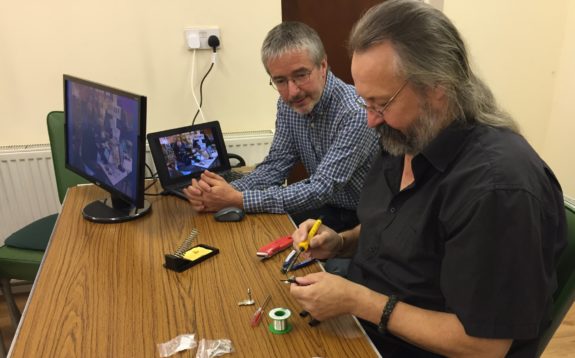 Echolink Demo
Lee 2E0DYH performed his first show-and-tell session, making good use of Echolink to make come online connections, including a connection with a chatty automated French Conference Server.
Essex CW Club
Rob M0KCP, Oliver M0WAG and Keith G3WGE were active on the Essex CW Club stand, helping to promote and encourage use of Morse mode, and trying out new kit
Data Modes
Pete M0PSX held three Data Mode mini-workshops: showing how to receive basic PSK31 messages using the free EssexPSK app (written for us by Charlie M0PZT), a basic guide to Ham Radio Deluxe v5 (for PSK31), and a look at JT65. Also discussed, getting started with MMSSTV, use of JT Alert and EasyPal vs. SSTV.
As requested, the following information may be useful:PSK31 Basics, Getting Started with Data Modes, What is JT65. We'll add a link to an SSTV audio file soon, as suggested by Paul M0CNL.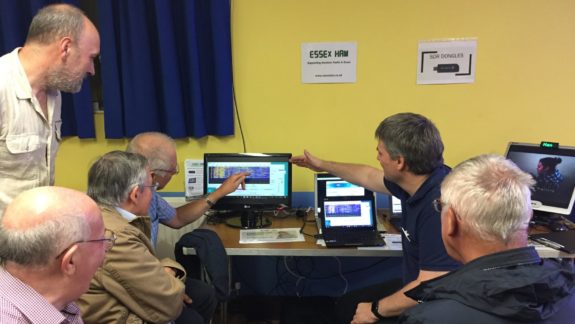 Essex Ham
The ever-growing collection of Getting Started Guides, a rolling demo of the £10 RTL SDR dongle, plus a new video played from the £4 Raspberry Pi Zero Portable Player. Also, details on the very busy Foundation Online training courses, as well as the event's free wi-fi
Callsign Badges:
Jim 2E0JTW and Glynis 2E0CUQ engraving callsign badges on demand – a great service offered at Skills.
CARS Quiz
A good mix of questions, including the chance to mention Tim Allen talking Ham Radio (See: Last Man Standing: Ham Radio on YouTube), and the ever-popular Amateur Anagram (sadly, Rachel Riley wasn't available…)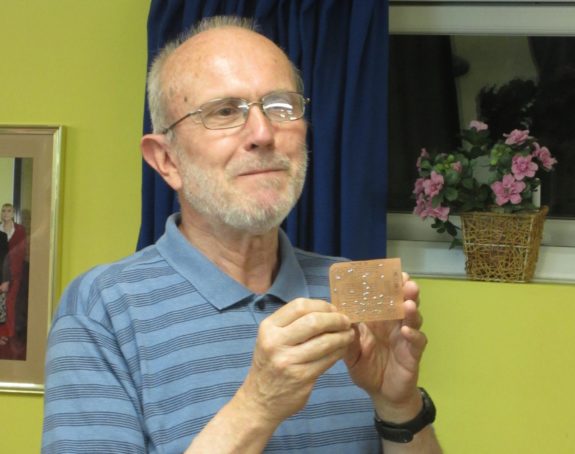 A massive thanks to Myra and David for their continued logistical support, and also to Ann for the amazing cakes (and jam tarts, of course), plus to Sarah for admin, front-of-house, supplies and roadie duties.
The next Skills Night is on the 17th of October. Skills remains a free event that's open to everyone regardless of licence level. No need to be a member of any clubs, and everyone's welcome.
Thanks all, and 73,
Pete M0PSX
Event Photos
[ngg_images source="galleries" container_ids="79″ display_type="photocrati-nextgen_basic_thumbnails" override_thumbnail_settings="0″ thumbnail_width="120″ thumbnail_height="90″ thumbnail_crop="1″ images_per_page="20″ number_of_columns="0″ ajax_pagination="0″ show_all_in_lightbox="0″ use_imagebrowser_effect="0″ show_slideshow_link="1″ slideshow_link_text="[Show slideshow]" order_by="sortorder" order_direction="ASC" returns="included" maximum_entity_count="500″]
Related Links